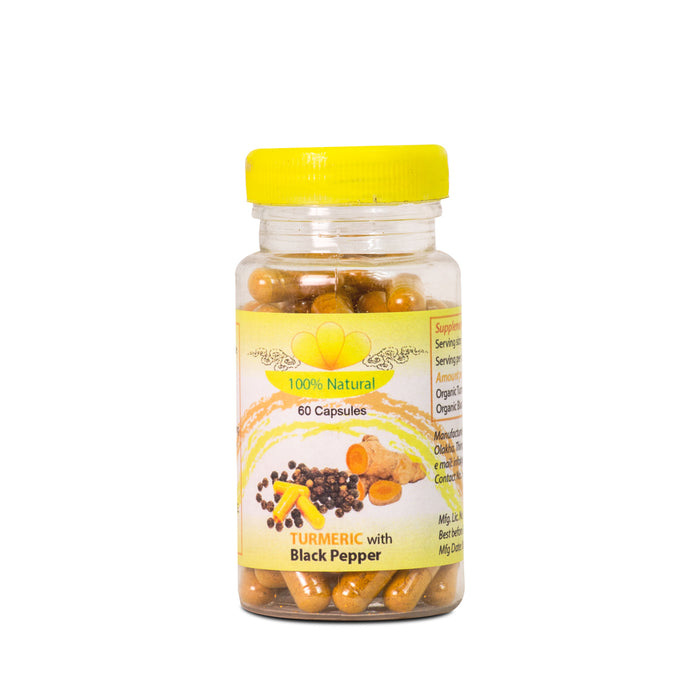 100% organic Turmeric capsules, 60 Capsules,80g Pure Organics, Healthy capsules, Turmeric capsules of Bhutan, Capsules from Himalaya, Natural,
Sold out
Original price
Nu 199.00
-
Original price
Nu 199.00
Traditionally Turmeric has been used for medical purposes for centuries around different parts of the world. Turmeric has medicinal properties like boosting the immune system, antioxidant and anti-inflammatory. We collect the Turmeric powder from the women association from Zhemgang, Bhutan.
Dimension:
Diameter: 1.5 inches Height: 3.7 inches 
Weight:80gm
Organic Turmeric: 500mg
Health Benefits of Turmeric capsules
1) Helps Arthritis & Joint Pain
One of the most common uses for turmeric extract is combating the discomfort from joint pain and arthritis. Severe arthritic symptoms include limited range of motion, joint stiffness, excessive swelling, and lack of mobility. These symptoms can get worse over time, causing permanent damage if left untreated.
Research shows that curcumin inhibits many of the mediators of inflammation linked to rheumatoid arthritis, psoriatic arthritis, and osteoarthritis development. Turmeric consistently reduces arthritis symptomology and may serve as an excellent complementary treatment for joint pain.
2) Reduces Chronic Inflammation
Inflammation is the body's immune system responding to irritants or threats. Inflamed areas often swell up, turn red, or become painful. While this is a healthy and normal bodily reaction, sometimes the immune system goes awry. If inflammation becomes chronic, it can lead to significant health problems.
Many trials have demonstrated curcumin's anti-inflammatory properties through its inhibition of key inflammatory markers in the body. Turmeric's antioxidant activity also helps reduce oxidative stress, a process linked to low-grade inflammation.
3) Back Pain
Often, chronic back pain derives from underlying issues, including sciatica, herniated disks, or spinal problems. While turmeric is not a direct cure for these conditions, it has shown potential in managing upper and lower back pain by targeting inflammation and reducing free radical damage.
4) Aids Weight Loss
Obesity can lead to several different health issues, such as high blood pressure, diabetes, heart disease, stroke, and others. If you're an otherwise healthy individual, weight loss can be pretty straightforward. However, if you have a pre-existing metabolic disorder, things can be a bit more complicated.
Several trials have shown that curcumin benefits metabolic disorders by helping stabilize metabolism and manage weight. Turmeric increases insulin sensitivity, regulates lipid metabolism, and targets fat by suppressing multiple processes responsible for the growth of adipose tissue.
5) Improves Skin Health
Our skin is the all-important, outermost protective layer of our body. Skin keeps us safe from harmful microbes and regulates our internal body temperature. At times, unwanted skin conditions may arise that require treatment such as chronic acne, eczema, and psoriasis.
Many DIYers use turmeric powder to create face masks, pastes, and other topical solutions to heal the skin. Researchers have confirmed that curcumin reduces oxidative stress associated with inflammatory skin conditions. Turmeric also enhances collagen synthesis and significantly speeds up tissue repair.
6) Natural Blood Thinner
Blood clots occur when blood cells called platelets, move to a damaged site to plug the wounded area. This occurrence is a normal bodily function. Without clotting, small papercuts would become catastrophic. At times, certain health conditions arise that require blood thinning to prevent blockages.
Curcumin supplements have shown potential as an anticoagulant (blood thinner) under certain conditions. Turmeric extract impacts several stages of the coagulation process, including thrombosis (local blood clotting), and hemostasis (stopping blood flow). However, more human trials should be done to confirm efficacy.
We also offer the following supplements:
Turmeric Capsules, Black Ginger Capsules, Dhuetsi Chuelen, Lakadong Turmeric Capsules, Bhutanese Shilajit, Mountain Pepper Oil, Native Turmeric Capsules, Natural Litsea Citrata Oil (Sil Timur), Organic Black Turmeric Capsule, Shilajit in Resin Form, Turmeric Capsules, Yungwa.