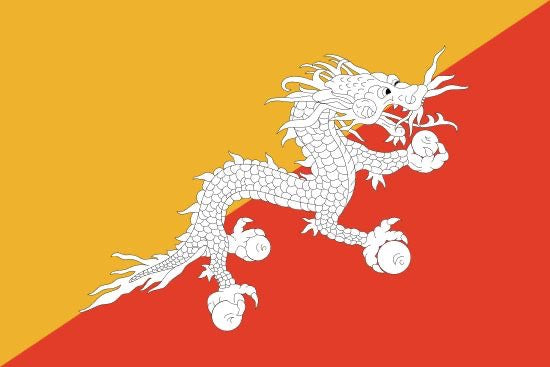 Bhutan National Flag, Embroidory flag, Dragon flag, Bhutanese flag, Flag of Bhutan, Dharma Flag, Flag of Bhutan
Sold out
Original price
Nu 3,050.00
-
Original price
Nu 3,050.00
Nu 3,050.00
-
Nu 3,050.00
Current price
Nu 3,050.00
The origin and the history of National Flag dates back to the signing of Indo-Bhutan Treaty of 1949. The king, His Majesty Jigme Wangchuck, designed a square flag diagonally divided yellow in the upper hoist over red in the lower fly, with a green dragon "at the centre of the yellow-red fields, parallel to the fly, facing the fly end". I think that means the dragon is upright. The original flag was embroidered by Lharip Taw Taw, a court painter. The dragon was painted in green, in reference to the traditional yu druk ngonm (གཡུ་ རབྲུག་ སྡོནམ), the turquoise dragon.
The Significance of Bhutan flag:
The national flag of Bhutan is half yellow and half red.

The" Yellow"signifies to the Dharma King as he is the summit and root of Drukpa Kagyud of the Pelden Drukpa and the "Red" signifies the Kingdom of Kagyud Palden Drukpa is governed from the foot of the Dharma King His Majesty consistent with dual monastic and civil systems, and therefore the country's entire borders and centre is consistent with the teachings (Dharma).
The red and yellow fields are adjoined. The dragon spreads equally over them. This signifies that the people are united in oneness of speech and mind in upholding the Kingdom's interest. The dragon symbolizes that in the eyes of Palden Drukpa, there is no discrimination against people of any disposition, and that they are being governed toward peace and prosperity."
Sizes of Bhutanese Flag
120 X 180( Large)
90 X 130(Medium)
60 X 90(Small)