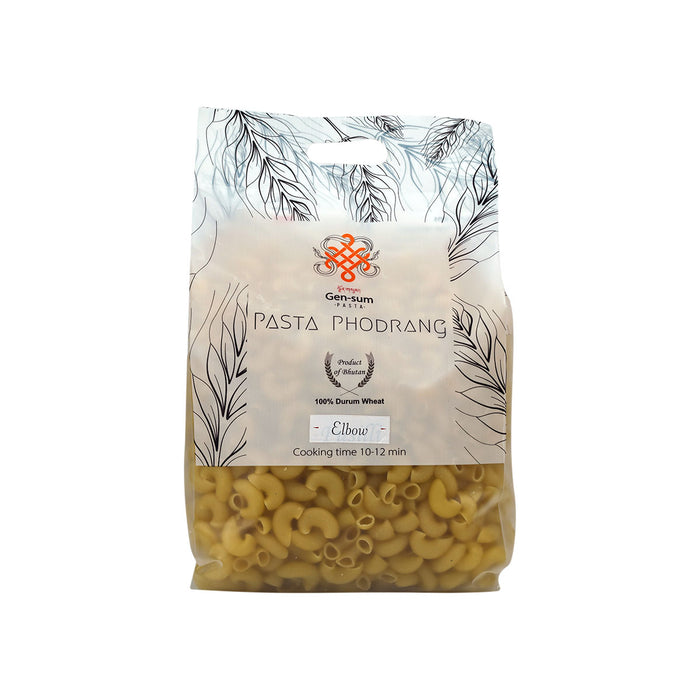 gen-sum Pasta, Made in Bhutan, Pasta Phodrang, Bhutanese Pasta
Original price
Nu 120.00
-
Original price
Nu 135.00
Gens-sum pasta is a delicious and authentic way to bring the flavors of Bhutan to your dinner table. Our Made in Bhutan Pasta is handcrafted using the finest durum wheat, ensuring a unique and flavorful experience. This combination creates a rich and robust flavor that is unmatched by commercially produced pasta.
This allows the pasta to retain its flavor and texture, making it the perfect base for any sauce or dish. It is versatile and easy to cook, making it a great addition to any meal. Whether you're looking to create a classic Italian dish or a unique Bhutanese-inspired meal, our pasta is the perfect ingredient to elevate your dish.
Nutritional Information
(Approximate Value)
Energy
 355 Kcal
Protein

11 g

Total Carbohydrate
75 g
Sugars
3 g
Dietary Fiber
3 g
Total Fat
3 g
Saturated Fat
0.2 g
Trans fat
0.2 g
Technical Description

Net Weight: 500gms
Instructions
 Fill a large saucepan with water, put the lid on and bring to a boil over high heat.
Add a good pinch of salt.
Once the water is boiling, stir in the pasta.