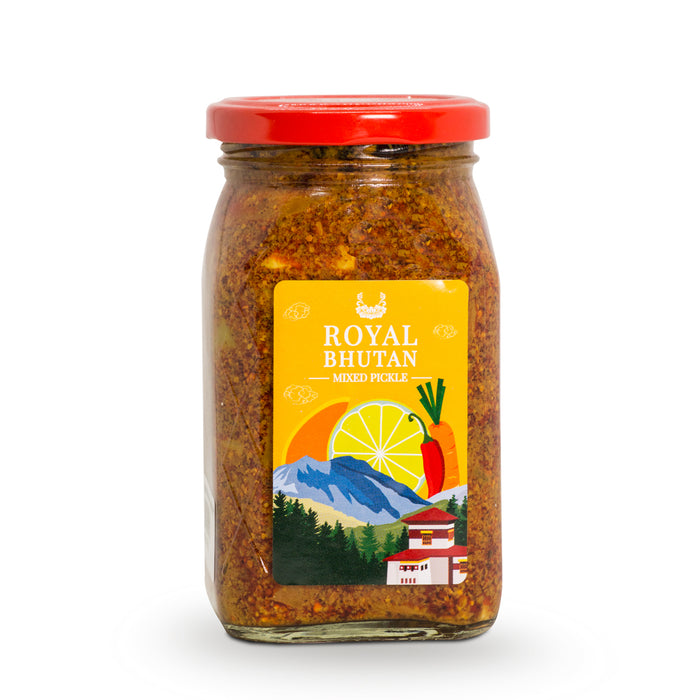 Royal Bhutan Mixed Pickle, 400g, Royal Bhutan Agro
Original price
Nu 150.00
-
Original price
Nu 150.00
Mixed pickles are pickles made from a variety of vegetables mixed in the same pickling process. ... In Bhutan cuisine, a mixed pickle consists of vegetables typically including cucumbers, cauliflower, cut large onions, and bell peppers, as well as spices like garlic, dill, allspice, and chili peppers, suspended in vinegar.
Ingredient:
Mango cubes, carrot, ginger, lemon cubes, green chillis, turnip/radish, mustard oil, mustard seed, salt, mixed spices, acidity regulator.
Dimension:
Height: 12cm x width: 14cm (round)
Weight:400gm
About the producer:
Bhutan Agro Industries Limited (BAIL) is a fruit & vegetable processing company in the Himalayan Kingdom of Bhutan. It was established in 1993 with the financial and technical assistance of the Danish International Development Agency (DANIDA). BAIL is located at Wangchutaba, 12km from the capital city of Thimphu. BAIL was set up to help uplift the Bhutanese rural economy by creating opportunities for farmers to earn additional income. The company achieves this objective by buying off surplus horticulture produces of the farmers, which is also the main source of the company's raw materials.