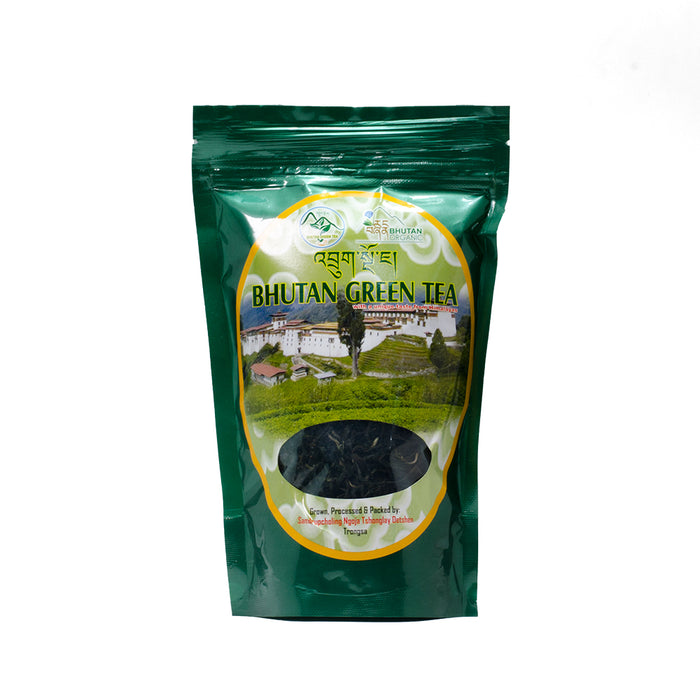 Samdrupcholing Tea, 50g, Bhutan Green Tea from Trongsa.
Original price
Nu 250.00
-
Original price
Nu 250.00
Samdrupcholing Tea 

Is a product of a small community in "Samdrupcholing Village"  under Trongsa District. It is organically grown, handicapped and processed in pristine environment of high Himalayas and is the only green tea from Bhutan. The tea plant was originally planted around the "Samdrupcholing Palace" during the reign of Second King of Bhutan which was used to produce local tea leaf.

However, its cultivation was neglected until 2009, it was revived and planted for green tea production and has been the greatest gift to the community of "Samdrupcholing" from the Second King.  Its production is aimed at enhancing the livelihood of economically disadvantaged farmers of "Samdrupcholing" village.
Direction: 
Place one tea bag in cup and pour boiling water
Wait for 2-3 minutes for tea components to infuse
Adjust the amount of tea leaves according to your taste
Best enjoyed without milk and sugar 
Enjoy fresh Himalayan taste 
We also offer Guava Tea Infused with Tulsi, Avocado Tea by Gurjo Herbal Tea, Hibiscus Tea, Moringa Tea from Bhutan Herbal Tea, Ginger Moringa Infusion, Tulsi Moringa Infusion, Hibiscus Moringa Infusion, Rosehip Moringa Infusion, Loose Tea, Bhutan Herbal Tea, Chamomile Tea, Lemon Verbena, Pineapple weed tea, Bhutan Cordyceps Tea, Dhuetsi Herbal Tea, Bio Lemongrass Green Tea, Mint Tea, Chamomile Tea, moringa tea, guava tea, Fresh, tulsea tea,roselle tea from Bhutan, Seabuckthorn Cereal Roast, Bhutan Cordyceps Tea, Himalayan Gooseberry Tsheringma Tea, Bhutan Minty Highland mix, Mistletoe Tea from Bhutan, Bhutan Cordyceps Cardamom Tea, Cinnamon & Turmeric Tsheringma Tea, Bhutan Mountain Tea.