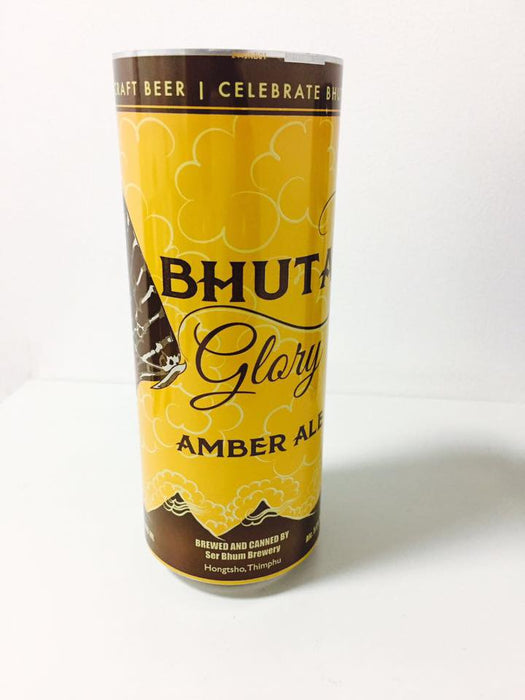 Serbhum Craft Beer, 300ml, Ser Bhum Brewery
Original price
Nu 120.00
-
Original price
Nu 120.00
The story of Bhutan begins with a dragon, with thunder in its voice and fire in its heart.  It's the perfect symbol for our Dragon Stout.
Liberal amounts of chocolate malt and roasted barley are added to this beer to give it a deep, dark, black colour as well as lots of coffee and chocolate aromas. The roasted malts will give a slight astringency to the beer, which will be balanced by a slight sweetness added by the Crystal malt.
Magnum hops are used to bitter the beer as they produce a clean, neutral bitterness.
The bitterness given by the hops will accentuate the roasty characteristics of the beer.  However, Dragon Stout is in the low end of the bitterness range for stouts so that the consumer may drink more than one in a sitting.
Product Description
Dimensions: 300ml Cans
Alcohol content: 5%
Included: 1 can
Height: 21cm
Diameter: 5cm
For bulk and wholesale import: email us at info@druksell.com 
We also offer VSOP Cognac, Bhutan Grain Whiskey, K5 Whiskey, Misty Peak, ROSE Zumzim Wine, Special Courier Whiskey, TER single malt whiskey, Yahla Cream Liquer, Zumzim Peach wine, Bhutanese Beer, Honey Wine, Kiwi Wine, Namgay Artisanal Craft Beers, Raven Carbernet Sauvignon.
About the brewery
"Ser Bhum" literally translates to "Golden Vase", and it is one of the eight lucky signs of Bhutan.
Our Ser Bhum logo provides an image of an opulent serving vessel, demonstrating our brewery's hospitable nature and willingness to share its bounty with all. The hint of foam at the top of the vase suggests a large serving vessel and a bountiful source of quality beer suitable for sharing.
Ser Bhum Brewery's mission and motto is: "Simply Craft, Celebrate Bhutan".
The first part, "Simply Craft," stems from our desire and our passion to create a genuinely Bhutanese high quality, flavorful craft beer, which all Bhutanese and visitors may enjoy. 
Ser Bhum Brewery always shall strive for quality, appeal to explorers, promote Bhutan and be a genuinely Bhutanese company, providing long term opportunities to young men and women and care for the environment.