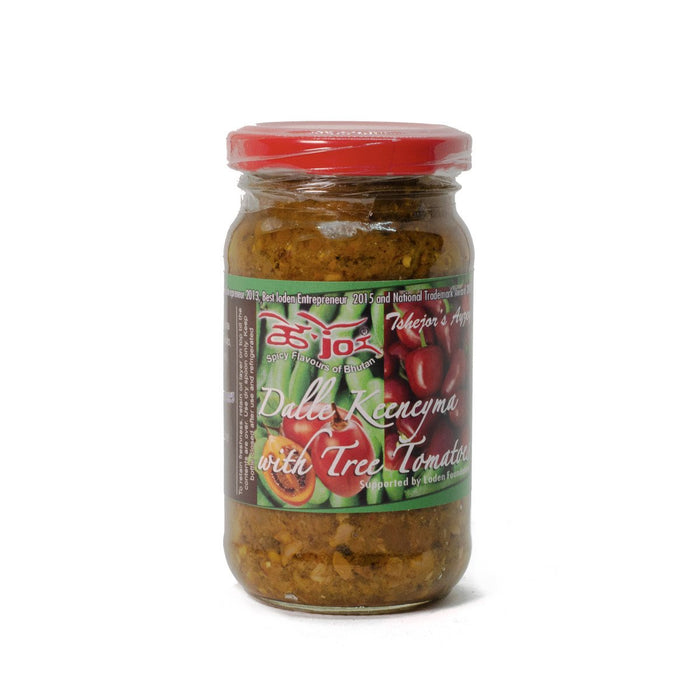 Supreme pickles with different flavours, 200g, Tshejor's Ayzey
Sold out
Original price
Nu 0.00
-
Original price
Nu 0.00
Pickles or Ezay in Dzongkha Langauge can be made of vegetables, fruits or meat by preserving them in vinegar or oil for a long time, some are fried and some are roasted. Tsejor produces some of the finest pickles from Bhutan that are blended with exotic herbs, spices, condiments and vegetables from Bhutan. Try the Spicy Flavors of Bhutan
 Dalle Chilli Paste (

red hot cherry pepper)

Tree Tomato
Prickly Ash pepper (szechuan

 

pepper)
Fermented Cheese (Zoedoe in local langauge)
Perilla Cheese
Product details:
Bottled in 200gm
Dimensions: 5x5x10cm
Aluminum sealed Pouches are available in 250 gm packs.
Tsejor is the recipient of the following awards:
Women Entrepreneur 2013 (DCSI-MoEA) 
Best Loden Entrepreneur 2015
National Trademark Award 2018 (DOIP-MoEA)
International Business Excellence Awards 2021 Bhutan (GIBF)
About the producer
Ms. Tshewang Dem had the idea of producing homemade Bhutanese pickles combining a unique blend of local ingredients. Her "Tshejor Ayzey" (homemade pickles) quickly became very popular and were produced in greater quantity to meet a growing market demand. To target chilly lovers living abroad, Mrs. Tshewang also produced and packaged pickles in a way that made them easy to transport.. As a female entrepreneur, Mrs. Tshewang Dem is eager to inspire other women who strive to gain their financial independence. Mrs Tshewang Dem won the award of Loden Entrepreneur of the year 2015.