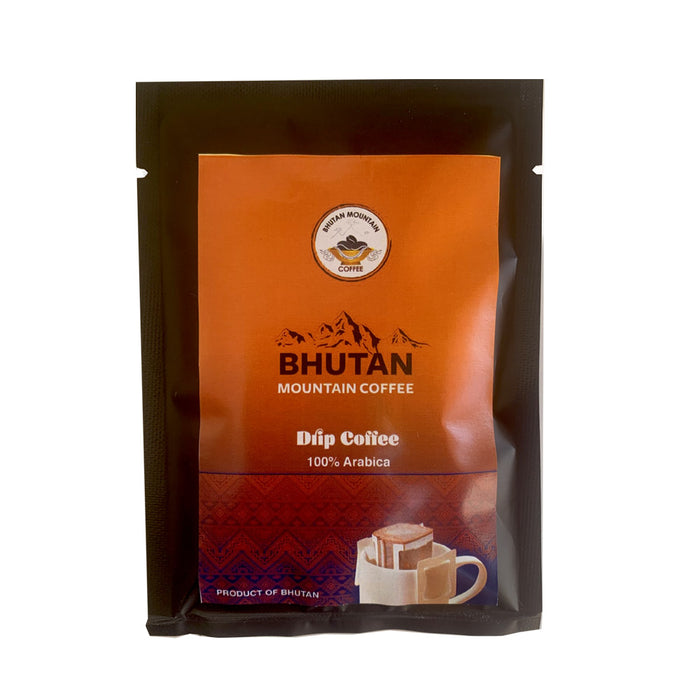 Bhutan Drip Coffee, 100% Arabica, 5 Sachet Bags, Bhutan Mountain Coffee, Bhutanese coffee, coffee of Bhutan, coffee from Bhutanese, morning drink, breakfast, drinks, natural, fresh, beans, Bhutanese coffee beans,
Original price
Nu 450.00
-
Original price
Nu 450.00
Fresh Roasted signature house blend and best-selling coffee from Bhutan.
Smooth and balanced, this blend is sourced from the southern foothills of Bhutan. The beans are grown in the Samtse district and grown on a 20acre land. The entire harvesting process is done with the local community engagement.
Five Coffee Bags, Drip Coffee, Any time, anywhere single-origin coffee from Bhutan.
Blend: 100% Arabica

Roast type: Light-Medium Roast
ESPRESSO: Sweet and well balanced with hints of nutty earth flavor
BLACK FILTER / CUPPING: Rich acidity and medium body. A great all-day drinking coffee.
Brewing Instructions: 
Tear off top of pouch and filter bag

Spread wings and place onto the cup of hot water (85-95 degrees Celcius)
Slowly pour hot water onto bag (150ml)
Remove and discard used filter and enjoy Fresh Bhutan Coffee!
Technical Description
Package: Pack

Weight: 12g coffee filter bag
Included: Grown in Bhutan, Ground Coffee Beans
Producer

Bhutan Mountain Coffee is the only licensed Coffee roastery in bhutan. We are trained and certified Roastmaster with experience in the science and art of Coffee. Our Coffee blends are fresh and fruity tastes grown above 1400m