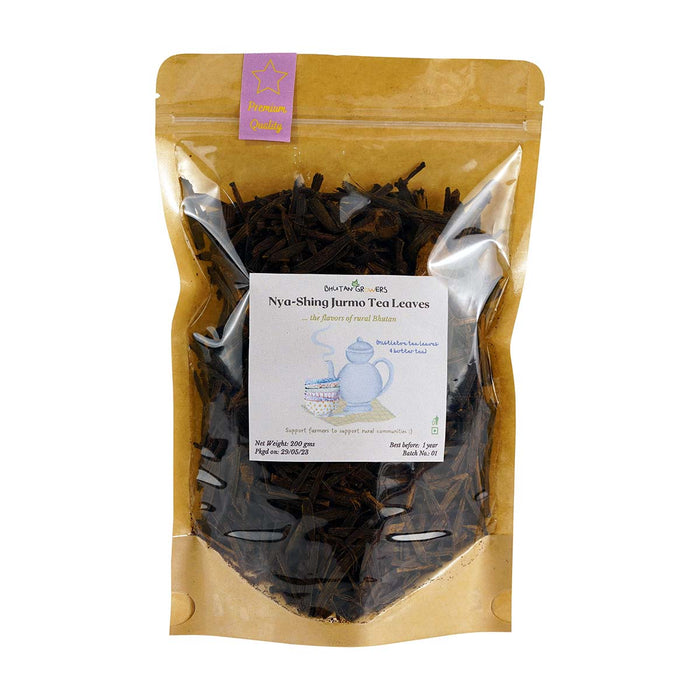 Nya-Shing Jurmo Tea Leaves, 200gm, Bhutan Growers
Original price
Nu 399.00
-
Original price
Nu 399.00
Nya-Shing Jurma Tea Leaves, the epitome of exceptional tea craftsmanship straight from the renowned Bhutan Growers. Savor every sip of this exquisite blend, carefully cultivated amidst the pristine valleys and mist-laden mountains of Bhutan, known for producing some of the finest teas in the world.
Each 200gm pack of Nya-Shing Jurma Tea Leaves offers a captivating symphony of flavors, embodying the essence of Bhutanese tea traditions. Handpicked with utmost care, these tea leaves showcase a delicate balance between strength and subtlety, providing a truly remarkable tea experience.
Brew a cup of Nya-Shing Jurma Tea to elevate your tea-drinking experience, whether you seek a moment of tranquility, an energizing pick-me-up, or a serene way to unwind after a long day. Its unique blend of purity and complexity is a testament to Bhutan's dedication to quality, ensuring that every sip transports you to the majestic landscapes of the Himalayan kingdom.
Embrace the allure of Bhutanese tea culture with Nya-Shing Jurma Tea Leaves, a true masterpiece crafted for discerning tea enthusiasts and those seeking a taste of Bhutan's natural wonders. With every purchase, you support sustainable farming practices and contribute to the livelihoods of the passionate tea growers who nurture this remarkable gift from the mountains.
Net Weight: 200 gms