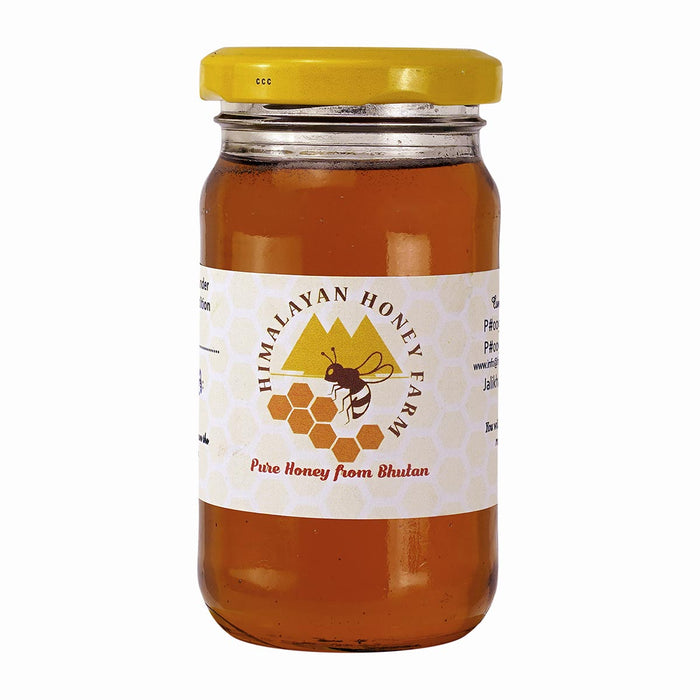 Pure Honey from Bumthang (bottled) 275g & 500g, BCOB
Original price
Nu 0.00
-
Original price
Nu 0.00
This unique blend of Bhutanese honey is harvest from Central Bhutan with one of the largest bee cooperative groups from Bhutan. 

Benefits of Pure & natural honey
This honey is filled with the pure taste of wholesome goodness packed with essential vitamins and minerals such as calcium, iron, copper, magnesium along with carbohydrates and glucose 
Technical details:
Farm honey, Vegetarian
Net quantity, 275gm and 500gm
Serving size: 1 teaspoon
Package: Bottled
Color & Taste: light colour and rich taste
Storage information:
Store in cool and dry place away from moisture.
Keep away from direct sunlight
About the producer
Beekeepers' association of Bhutan(BCOB) was officially founded on 21st July 1997, with a board comprising elected chair, secretary, cashier and two other members as a committee. The joint RGoB-Helvatas phasing out assistance were continued till the year 2000. The independent association today produces, processes and markets honey providing considerable income to the rural households in Bumthang district for farmers that have taken up beekeeping as their farming. The processed honey is marketed by the association within the country.
Further with the cooperative (Amendment) Act of Bhutan, 2009 being in place, the association established itself as farmers' cooperative and registered itself with the government on 3rd February as "Beekeepers Cooperative of Bhutan". As of now the cooperative has 32 members out of which 26 are active for honey production, harvest and marketing.