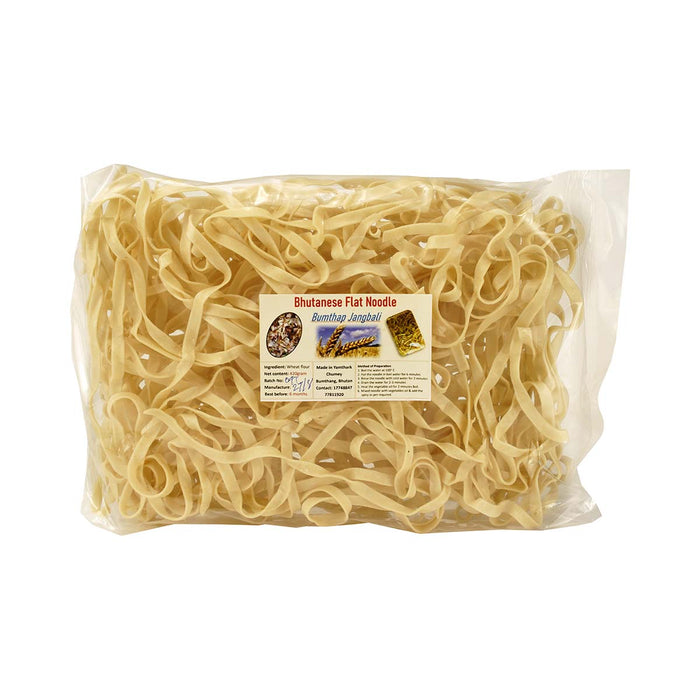 Bhutanese Flat Noodles, Bumthap Jangbali, Bumthap Puta
Original price
Nu 200.00
-
Original price
Nu 200.00
Discover Bhutanese Culinary Heritage with Our Wheat Flour Bhutanese Flat Noodles
Crafted from high-quality wheat flour, our Bhutanese Flat Noodles invite you to embark on a journey through the heart of Bhutanese cuisine. Whether you're a seasoned chef or an enthusiastic home cook, these versatile noodles are a gateway to creating dishes that capture the essence of the Himalayas. Order now and bring the spirit of Bhutanese cooking to your kitchen, one delicious bite at a time.
Elevate Your Culinary Adventure with Bumthap Jangbali Wheat Flour Noodles
Made from the finest wheat flour, Bumthap Jangbali Wheat Flour Noodles provide a taste of Bhutan's culinary soul. Simplicity and authenticity are at the heart of Bhutanese cuisine, and these noodles embody these values perfectly. Regardless of your culinary expertise, these versatile noodles offer a world of flavorful possibilities. Pay homage to Bhutan's rich culinary heritage and enjoy dishes that capture the pure, unadulterated taste of Bhutan. Order now and embark on a culinary journey that brings the spirit of Bhutan to your table.