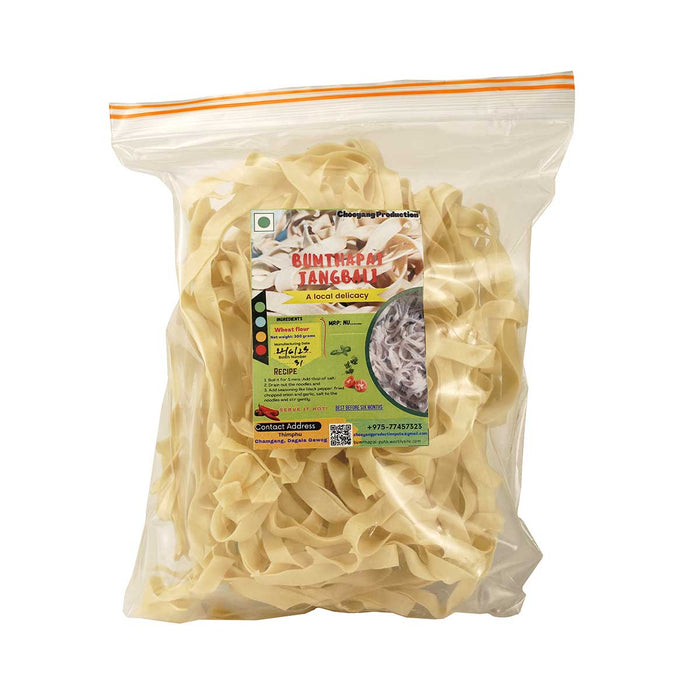 Bumthapai Jangbali (local delicay)
Original price
Nu 100.00
-
Original price
Nu 100.00
Indulge in the Taste of Tradition with Bumthapai Jangbali - A Local Delicacy.
Experience the rich flavors of Bhutanese culinary heritage with Bumthapai Jangbali, a beloved local delicacy that will transport your taste buds to the heart of the Himalayas. Crafted with care and using only the finest ingredients, this 300-gram package of wheat flour noodles promises an authentic Bhutanese dining experience that you can savor in the comfort of your own home.
Why Choose Bumthapai Jangbali?
Pure and Wholesome Ingredients: We believe in the power of simplicity. Bumthapai Jangbali is crafted from pure wheat flour, ensuring a natural and unadulterated taste that resonates with the soul of Bhutanese cuisine.

Quick and Easy Preparation: Our traditional recipe is designed for your convenience. Boil the noodles for just 5 minutes, adding a pinch of salt for that perfect balance of flavor. Drain them out, add the seasoning provided, and gently stir. In no time, you'll have a steaming, flavorful dish ready to serve.

A Burst of Bhutanese Flavors: The seasoning blend in Bumthapai Jangbali is a harmonious medley of spices and herbs, carefully selected to create a delightful symphony of tastes and aromas. Each mouthful is a journey through Bhutan's culinary landscape.