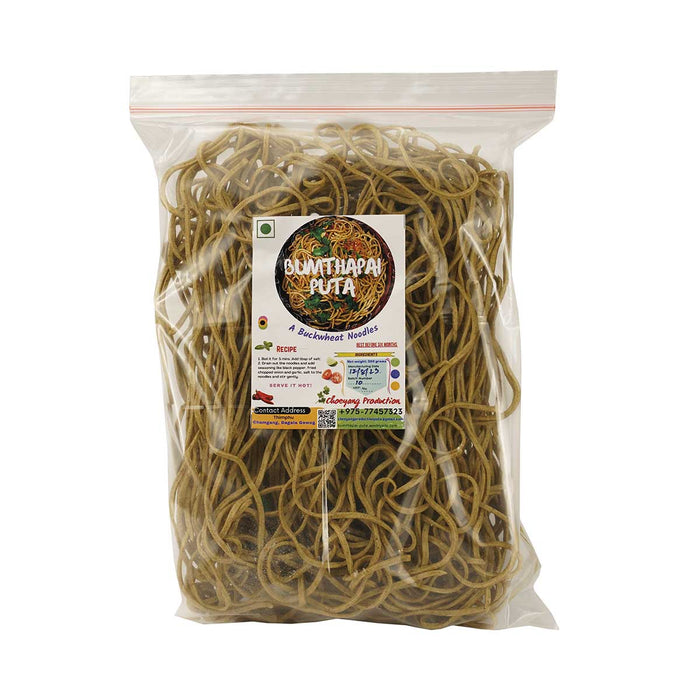 Bumthapai Puta (Buckwheat Noodles), Choeyang Productions
Original price
Nu 100.00
-
Original price
Nu 100.00
Savor the Essence of Bhutan with Bumthapai Puta (Buckwheat Noodles) by Choeyang Productions.
Bumthapai Puta, a culinary masterpiece that captures the spirit of Bhutan. Crafted with a single pure ingredient, buckwheat, this offering from Choeyang Productions brings you the wholesome taste of Bhutanese tradition in every bite.
Why Choose Bumthapai Puta (Buckwheat Noodles)?
Pure Bhutanese Essence: Bumthapai Puta stays true to the essence of Bhutanese cuisine. It's made solely from high-quality buckwheat, ensuring an authentic and unadulterated taste that resonates with the soul of the Himalayas.

Effortless Preparation: Our traditional recipe is designed for your convenience. Boil the noodles for just 5 minutes, adding a tablespoon of salt for the perfect balance of flavor. Drain the noodles, then add a medley of seasonings, including black pepper, fried chopped onions and garlic, and a dash of salt. Gently stir to create a delightful symphony of flavors.

A Taste of Bhutan: Bumthapai Puta captures the rich and rustic flavors of Bhutan. It's a culinary journey through the heart of the Himalayas, offering you a genuine Bhutanese dining experience.