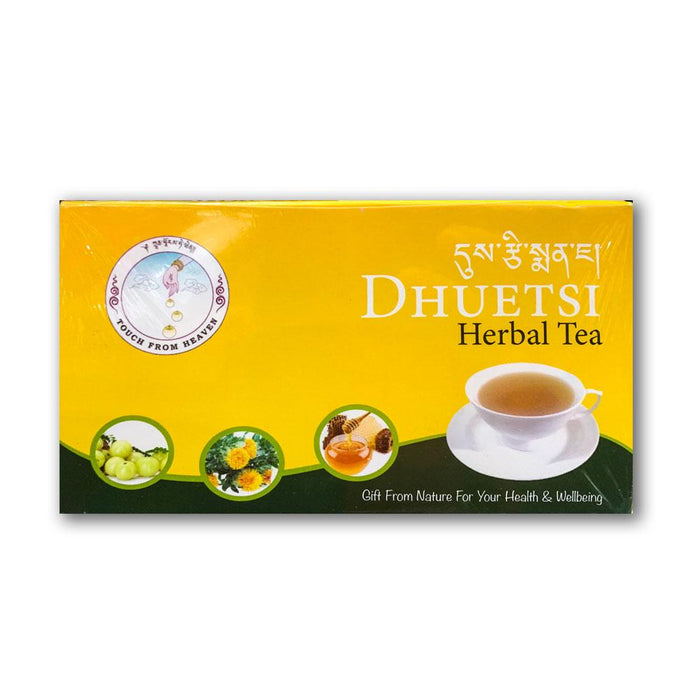 Dhuetsi Herbal Tea, 50g, 25 tea bags,Touch From Heaven
Original price
Nu 250.00
-
Original price
Nu 250.00
Gift From Nature for your Health & wellbeing
A carefully crafted blend of Carthamus Tincotious, Phyllanthus Emblica, and honey, this tea gives you a refreshing and soothing sensation from within. While you enjoy every sip of the tea, the ingredients help improve the condition of your heart, liver, and digestive system, thereby improving your general well-being, making you feel refreshed and energetic. 
Preparation: 
Pour boiling water over a tea bag placed in a cup and allow to brew for 5 to 10 minutes to get the best flavor and infusion.
For Maximum benefits, avoid adding sugar or milk.
Don't throw away your used tea bag, refrigerate it for use as a facial cleanser or as soothing eye packs.
Product Description
Dimensions (LxWxH): 24.5cmx16.5cmx10cm
Weight: 50gms
Included: 25 Teabags in one box.
We also offer Chamomile Tea, Lemon Verbena Tea, Bhutan Herbal Tea, Gift Set, 40 Tea Sachets, Bhutan Organics, Bhutan Fruit Tea, 11 flavors,(25 bags), Bhutan Herbal Tea, Bhutanese herbal tea, Natural, healthy, turmeric tea, moringa tea, guava tea, Fresh, tulsea tea,roselle tea from Bhutan, Bhutan Cordyceps Tea by Naturally Bhutan, Druk Yung Wellness Tea, Bhutan Natural, Wild Tea Infusion, Safflower & Cinammon Tsheringma Tea, Bhutan Herbal Tea Burst, Seabuckthorn Cereal Roast, Bhutan Cordyceps Tea, Bhutan Mountain Tea.
About the producer
Touch From Heaven is established with objectives, in its little ways, to create jobs, service balance of trade, contribute to technical and technological sovereignty and self-reliance, while providing customers an alternative choice and a proactive approach to healthy and smarter living.
"Dhue" mean time, "tsi" mean glue or fix, thus Dhuetsi means Time-amalgamate. Thus Dhuetsi products are believed to postpone or slowing down aging processes and provide option for proactive approach towards healthy and smarter living.