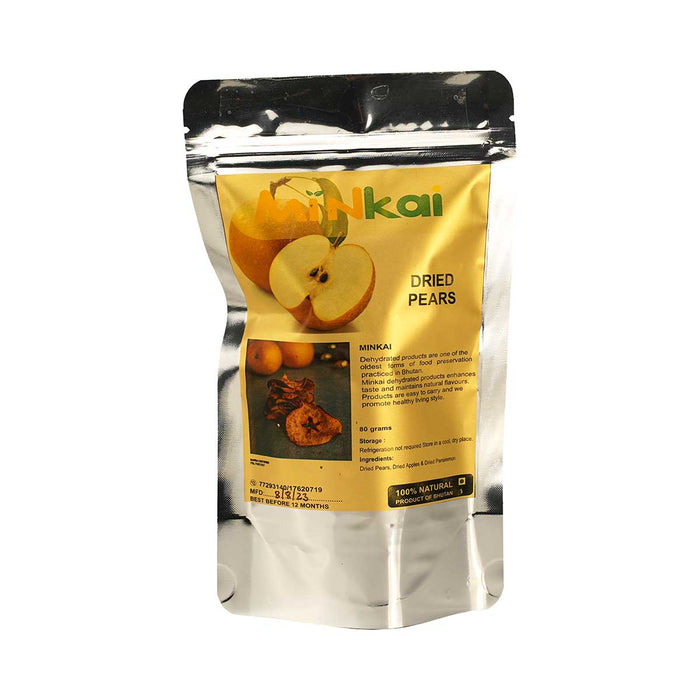 Dried Pears and Drired Apples, Minkai
Original price
Nu 170.00
-
Original price
Nu 200.00
Savor the Essence of Nature with Our Dried Apples and Pears
Indulge in the best of both worlds with our exquisite Dried Apples and Pears. Carefully handpicked and prepared to capture the authentic flavors of these beloved fruits, these snacks offer a delightful blend of natural sweetness and convenience.
Why Choose Our Dried Apples?
Pure Orchard Goodness: Our Dried Apples are a tribute to the orchards, delivering the crispness and sweetness of apples in every bite. Packed with essential vitamins and fiber, they're a wholesome snack choice.

No Added Preservatives: We believe in preserving the pure essence of fruits. Our Dried Apples contain no additives or preservatives, ensuring that you enjoy the unadulterated taste of orchard-fresh apples.
Why Choose Our Dried Pears?
Pear-fectly Sweet: Our Dried Pears offer the succulent and juicy goodness of ripe pears, making them a delightful treat for your taste buds. Pears are known for their natural sweetness and subtle floral notes.

Preservative-Free: Just like our Dried Apples, our Dried Pears contain no additives or preservatives. You're getting 100% pure pear goodness in every bite.
Net Weight: 80 gms
Storage:
Refrigeration not required Store in a cool, dry place.
About the Producer
Minkai
Dehydrated products are one of the oldest forms of food preservation practiced in Bhutan.

Minkai dehydrated products enhance taste and maintain natural flavors. Products are easy to carry and we promote a healthy living Style.