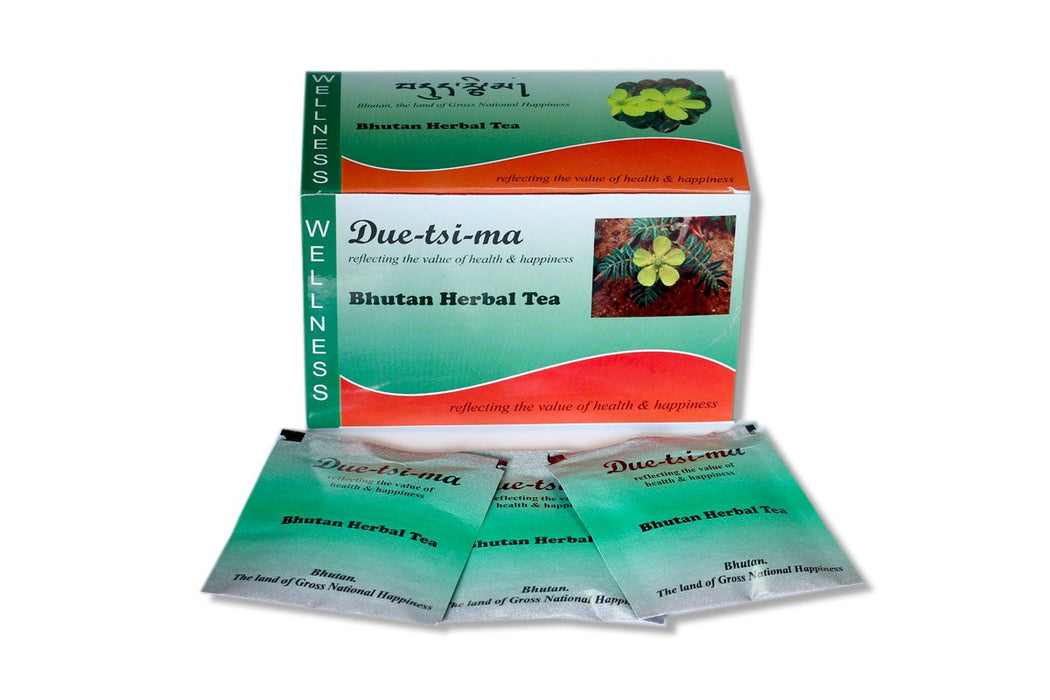 Due-Tsi-ma herbal tea from Bhutan, Bhutan Natural Product, 50g, 25 tea bag
Original price
Nu 0.00
-
Original price
Nu 0.00
This Herbal tea is a blend of root and bark with herbal values to improve your health and wellbeing. After drinking this year, you will feel strong physically & mentally.
This herbal tea is a health beverage that does-not contain any artificial or harmful elements.
Ingredients: 
Tribulus terrestris L. It posseses.
Terminalia chebula

 
Preparation: 
Pour boiling water over a tea bag placed in a cup and allow to brew for 5 to 10 minutes to get the best flavor and color.
Benefits:
Improves libido and strong anti-oxidant properties
Helps kidney function
Anti-aging property
Product Description
Dimensions (LxWxH): 24.5cmx16.5cmx1cm
Weight: 50gms
Included: 25 Tea bags in one box.
We also offer Guava Tea Infused with Tulsi, Avocado Tea by Gurjo Herbal Tea, Hibiscus Tea, Moringa Tea from Bhutan Herbal Tea, Ginger Moringa Infusion, Tulsi Moringa Infusion, Hibiscus Moringa Infusion, Bhutan Sea berry or Seabuckthorn Tea, Assorted Tea Gift Pack from Bhutan Herbal Tea, Loose Tea, Bhutan Herbal Tea, Chamomile Tea, Lemon Verbena, Pineapple weed tea, Hibiscus Tea, Mint Tea, Bhutan Cordyceps Tea, Bhutan Organics, Bhutan Fruit Tea, 11 flavors,(25 bags), Bhutan Cordyceps Tea, Himalayan Gooseberry Tsheringma Tea, Bhutan Minty Highland mix, Mistletoe Tea from Bhutan, Bhutan Cordyceps Cardamom Tea, Cinnamon & Turmeric Tsheringma Tea, Bhutan Mountain Tea.