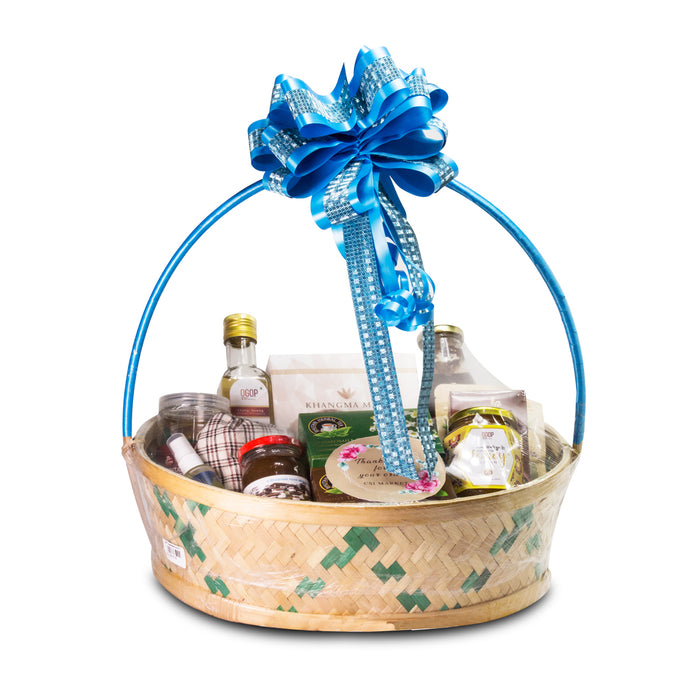 Gift basket, Gift Hamper, Made in Bhutan
Original price
Nu 1,900.00
-
Original price
Nu 3,900.00
Nu 1,900.00
-
Nu 3,900.00
Current price
Nu 3,900.00
A gift basket is typically a gift delivered to the recipient at their home or workplace. A variety of gift baskets exist: some contain Spiritual; while others might contain foods item such as tea boxes, crackers, and jam; or the basket might include a combination of Spiritual and good items.
Gourmet gift baskets typically include exotic fruit and often include quality cheese and wine, as well as other non-food items. Gift baskets are often sent for special occasions—such as holidays—or as a thank-you or congratulations gift. On certain occasions, it is given as a sympathy gift or a condolence gift during funerals.
Note: We offer customized gift hamper according to your choice. 
Item list:
Apple cider/seabuckthorn drinks/kiwi wine/honey wine
khangma marp/kharang/ Quinoa/ kidney beans
cookies/ incense powder/jam/ honey
Cordyceps tea/fruits tea/herbal tea
soaps/lip balm/ body butter/ spray/ oil
Gift hamper size:
Gift Hamper contains all Made in Bhutan products at a reasonable price.