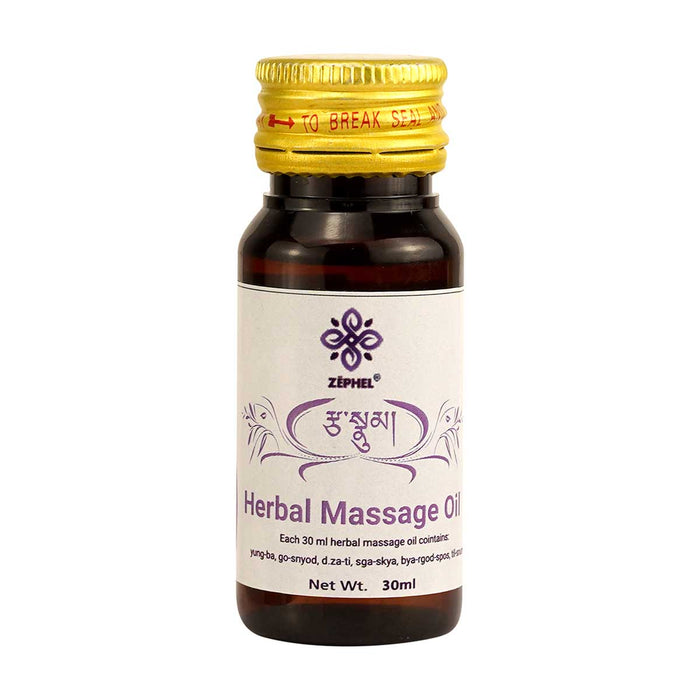 Herbal Massage Oil from Bhutan, 30ml, Menjong Sorig
Original price
Nu 0.00
-
Original price
Nu 0.00
Herbal Massage Oil from Bhutan
Pain Relieving Herbal Massage Oil, a natural and effective solution to alleviate body aches and joint pains, including muscle strain. Our specially formulated blend of herbal ingredients provides immediate relief from pain, helping you to feel relaxed and rejuvenated.
Our Pain Relieving Herbal Massage Oil is made using a unique blend of traditional Bhutanese herbs, including Yung-ba, Go-snyod, D.za-ti, Sga-skya, and Bya-rgod-spos. These natural ingredients work together to target the source of your pain, providing lasting relief without any harmful side effects.
To use our Pain Relieving Herbal Massage Oil, simply apply a small amount onto the affected parts and massage gently. You will feel the oil penetrate deep into your muscles and joints, providing instant relief from pain and discomfort.
Our oil is intended for external use only, and should be stored in a cool, dry place, out of reach of children. Experience the healing power of traditional Bhutanese herbs with our Pain Relieving Herbal Massage Oil.
Content:
For External use only
Indications:
Pain-relieving herbal massage oil relieves body aches and joint pains including muscle strain
Directions:
Apply by rubbing or massaging onto the affected parts for immediate pain relief
Product Dimension
length x height: 2cm(Round) x 7cm
Volume: 30ml
About the Producer
Menjong Sorig Pharmaceuticals, otherwise known as Pharmaceutical and Research Unit under the Institute of Traditional Medicine Services in the Ministry of Health, is the premier manufacturer of traditional herbal-based medicines supplied to all the Hospitals in Bhutan. It is a place where modern science and technology is married with ancient traditional knowledge. It is located in Kawa Jangsa in the capital city of Bhutan, Thimphu.
Traditional Medicine was introduced as a part of the National Health Care System in 1967, when the production of traditional medicines was started on a very low scale. In 1982, the production of traditional medicines was mechanized with the procurement of some basic grinding equipment with WHO support. By 1997, the cottage production unit was upgraded to a manufacturing unit as the Pharmaceutical and Research Unit (PRU) with modern equipment for production, research, and quality control.
The gso-ba rig-pa provides a comprehensive way of understanding the Universe, man, and his sicknesses and it is gaining popularity due to its holistic, rounded, and profound approach in the treatment of human beings. The TM system with its unique philosophy and approach has a holistic approach in the treatment of human suffering and diseases. It not only considers in treating the disease and its causes but also considers the interdependency of man and nature and has spiritual components included in the treatment.