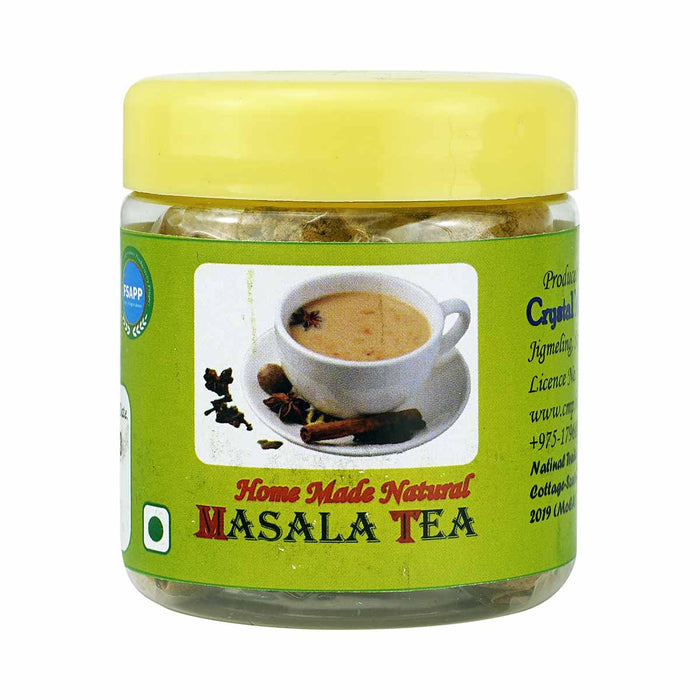 Home Made Natural Masala Tea by Crystal Moon Products
Original price
Nu 150.00
-
Original price
Nu 150.00
Experience the comforting embrace of our Homemade Natural Masala Tea, meticulously crafted by Crystal Moon Products. Our signature blend combines the finest ingredients, including ginger, cinnamon, clove, cardamom, and black pepper, to bring you a fragrant and soothing cup of masala tea that feels just like a warm hug from home.
Why Choose Our Homemade Natural Masala Tea?
Pure and Natural: We believe in the power of nature's goodness. Our masala tea is crafted using only the finest handpicked ingredients, with no additives or artificial flavors, ensuring each sip is a journey into pure, unadulterated flavor.

Aromatic Bliss: Our thoughtfully balanced blend of spices creates an exquisite aroma that awakens your senses and transports you to the heart of a traditional Indian kitchen, where the magic of masala tea begins.

Soothing Comfort: Enjoy a moment of tranquility with every cup. Our homemade masala tea is the perfect companion for your quiet mornings, cozy evenings, or any time you crave a sip of warmth and comfort.
Ingredients:
Ginger, Cinnamon, Clove, Cardamom, Black Pepper
Net Weight: 50 gm
About the Producer

Crystal Moon Product is owned by women entrepreneur aspiring to the part of the Agriculture cool chain value by acquiring locally grown fruits and vegetables to manufacturing premium varieties of pickles, semi candy, Spices, and cookies.