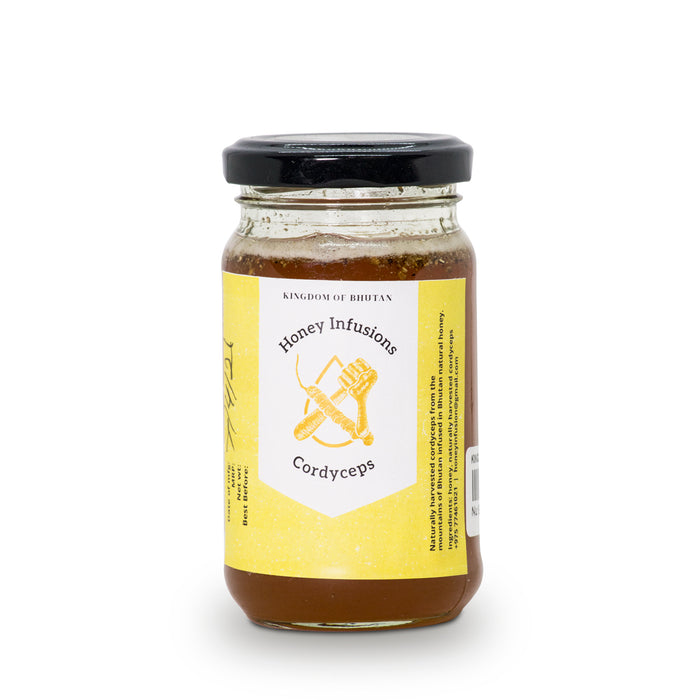 Honey Infusions Cordyceps Kingdom of Bhutan, 380g, Honey Infusions Bhutan
Original price
Nu 500.00
-
Original price
Nu 700.00
This Honey is infused with wild cordyceps Sinensis collected at high altitudes. The honey from Bhutan is among the best and most sought after in the world thanks to its medicinal properties and high pollen content.
In Bhutan, bees forage at high altitudes in a rich and pristine environment abundant with flowering plants.
The extraction process is artisanal and preserves all properties of the honey. It is then infused with the Cordyceps Sinensis mushrooms, renowned for their healing and restorative properties, combining the healing properties of two superfoods.
Product Dimension
length x height: 6cm (round) x 11cm
Ingredients:
100% Pure Natural Honey
Wild Cordyceps Sinensis
Product Description
Quantity:150ml 
Weight: 380gm
Height: 12cm x width: 10cm (round)
 About the producer
Honey Infusions Bhutan
Our artisanal honey infusions are handmade and infused for a certain period of time to ensure the cordyceps are well infused to bring the greatest health benefits. We are family run business based in the pristine Haa valley.
We work with selected beekeepers from the Bumthang's Beekeeping Association that use sustainable beekeeping practices. These ensure our honey is only the pure goodness of nature. Our cordyceps are bought directly from our collectors in laya and Lunana . we carefully sort out good quality cordyceps that are then hand crashed and infused into honey.
Honey infusions aspire to provide environmentally sustainable products that promote good health and a holistic lifestyle