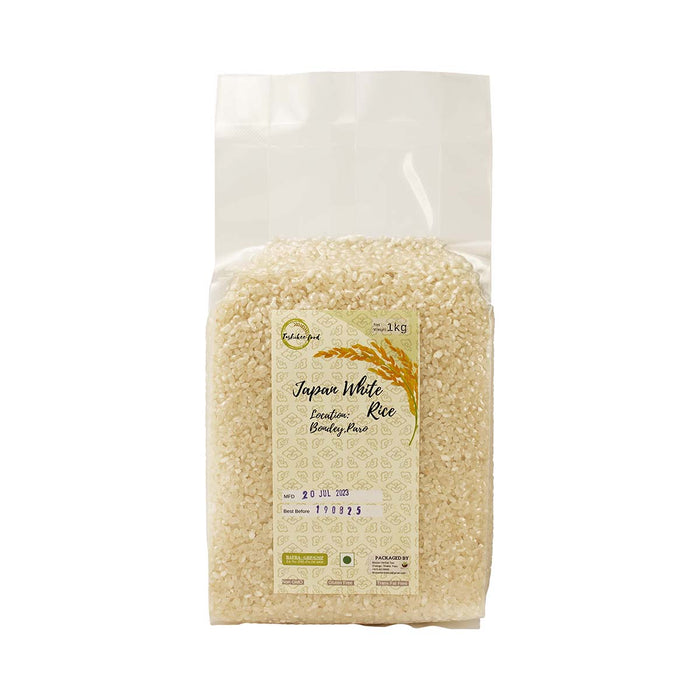 Japan White Rice, Bondey, Paro, 1kg, Tashikee Food
Original price
Nu 170.00
-
Original price
Nu 170.00
Indulge in the exquisite essence of Japanese cuisine with Tashikee Food's Japan White Rice, sourced from the pristine fields of Bondey, Paro. This 1kg package of premium white rice is your passport to the unparalleled taste and quality of Japanese culinary traditions.
Why Choose Tashikee Food's Japan White Rice?
Unmatched Quality: Our Japan White Rice is renowned for its superior quality. It's grown with care and precision in the fertile soils of Bondey, Paro, ensuring you receive the very best rice grains available.

Authentic Japanese Taste: Immerse yourself in the authentic flavors of Japan. Our white rice has the perfect texture and taste, making it an ideal companion for traditional Japanese dishes or any cuisine you desire.

Easy Preparation: Cooking perfection is effortless with our Japan White Rice. It's a breeze to prepare, guaranteeing you a delightful and satisfying meal every time.

A Versatile Staple: White rice is the cornerstone of Japanese cuisine and is incredibly versatile. It pairs beautifully with a variety of dishes, from sushi and sashimi to teriyaki and tempura.