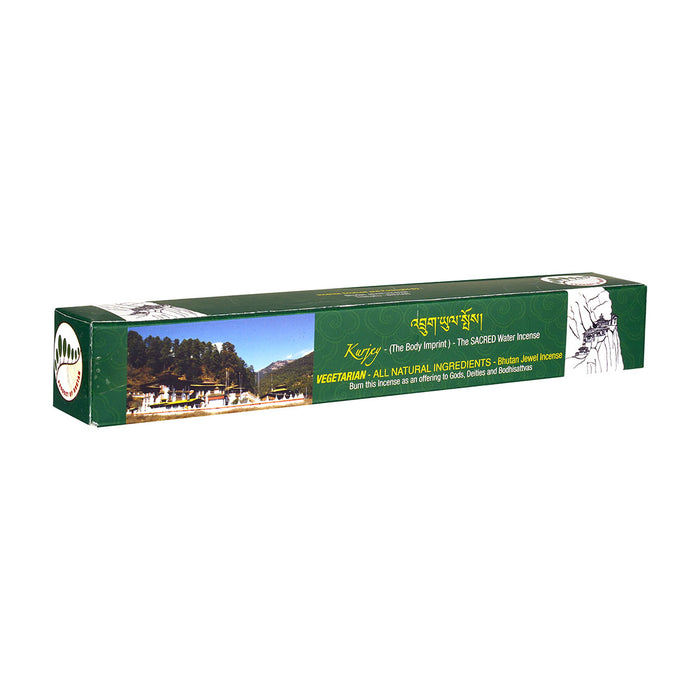 Kurjey-(The Body Imprint)-The SACRED Water Incense, Vegetarian: All Natural, Bhutan Jewel Incense
Original price
Nu 175.00
-
Original price
Nu 175.00
Experience the divine essence of Bhutanese spirituality with Kurjey - the scared water incense. Made with 100% natural ingredients, this vegetarian incense is handcrafted by Bhutan Jewel Incense with a special ingredient - the sacred water from Kurjey Drupchu, Bumthang.
The Kurjey temple is the birthplace of this incense, where Guru Rinpoche meditated and subdued evil deities. The Cypress tree that grew from his walking stick still stands today, behind the temple. Above the temple, the Kurjey Drup-Chu or sacred water flows, renowned for its healing properties.
Kurjey incense contains a blend of cloves, cinnamon, juniper powder, white sandalwood powder, and the sacred water. Each roll contains a minimum of 18 to 19 sticks, measuring 8.5 inches in length. While the sticks may not be identical in color, due to the natural drying process, their spiritual essence is sure to uplift your mood.
Burn this incense as an offering to gods, deities, and bodhisattvas, and fill your home with the divine fragrance of Bhutan. Experience the serenity and tranquility that only Kurjey - the scared water incense can bring.
Length: 8.5 Inches
Contains a minimum of 18 sticks