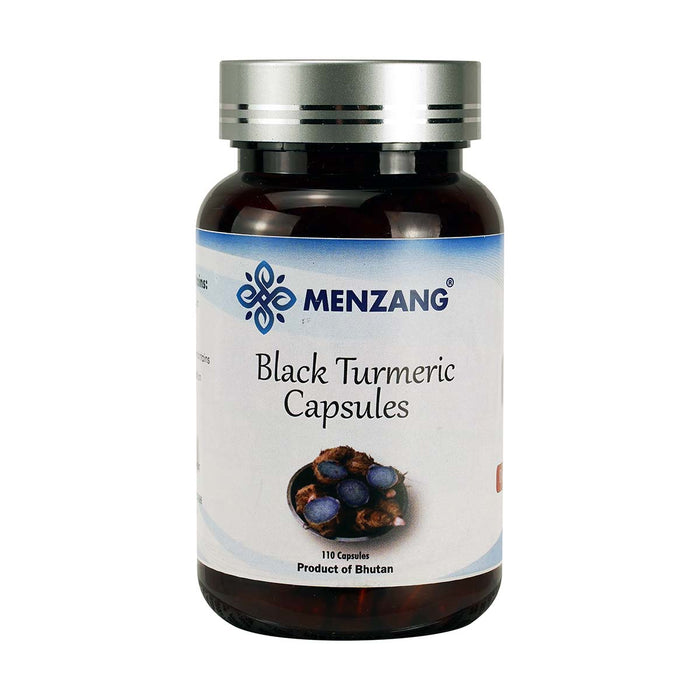 Menzang Black Turmeric Capsules, 110 Capsules, Menjong Sorig
Original price
Nu 550.00
-
Original price
Nu 550.00
Each 400mg capsule contains:
100% Black Turmeric (Curcuma caesia) or Yung-wa Nag-po.

Menzang Black Turmeric Capsules contain the rare and precious Black Turmeric, a distinct variety of turmeric known for its exceptional healing properties. Black Turmeric stands out with its unique appearance, boasting rhizomes with a captivating bluish-purple hue that evokes its potent medicinal qualities. Each capsule contains finely powdered 100% Black Turmeric, sourced from the pristine regions of Northeastern and Central India.

Features:

Premium Sourcing: We source Black Turmeric from regions where it has thrived for centuries, ensuring authenticity and potency.
Traditional Wisdom: Black Turmeric is revered in traditional practices for its high concentration of curcumin, a potent polyphenol with antioxidant and anti-inflammatory properties.
Holistic Wellness: Menzang Black Turmeric Capsules are designed to support your well-being from the inside out, offering a range of potential benefits.
Cultivation and Harvest: Our capsules are prepared with utmost care, following traditional cultivation and harvest practices to preserve the essence of this precious herb.
No Additives: We believe in purity, which is why our capsules contain only 100% Black Turmeric, with no added fillers or artificial ingredients.
Benefits:

Anti-Inflammatory Support: Curcumin, present in high amounts in Black Turmeric, may help reduce inflammation and promote joint health.
Antioxidant Boost: The potent antioxidants in Black Turmeric can support your body's defense against oxidative stress and free radicals.
Digestive Harmony: Black Turmeric has been traditionally used to aid digestion and soothe stomach discomfort.
Immune Enhancement: The natural compounds in Black Turmeric may contribute to strengthening your immune system.
Cultural Significance: Black Turmeric holds a special place in various cultural and spiritual practices, symbolizing protection and positive energy.
Usage:
Take 1 capsule of Menzang Black Turmeric Capsules daily, preferably with a meal, or as directed by your healthcare professional. Embrace the goodness of Black Turmeric as a part of your daily wellness routine.

Safety:
These capsules are carefully prepared to provide the benefits of Black Turmeric in a convenient form. However, if you are pregnant, nursing, or have underlying health conditions, it's advisable to consult a healthcare practitioner before use.

Elevate your well-being with Menzang Black Turmeric Capsules – a testament to the synergy of nature and science, tradition and modernity. Experience the holistic benefits of Black Turmeric and embark on a journey to better health, vitality, and balance.

[Disclaimer: This product is not intended to diagnose, treat, cure, or prevent any disease. Please consult your healthcare professional before use.]

About the Producer
Menjong Sorig Pharmaceuticals,otherwise known as Pharmaceutical and Research Unit under the Institute of Traditional Medicine Services in the Ministry of Health, is the premier manufacturer of the traditional herbal-based medicines supplied to all the Hospitals in Bhutan. It is a place where the modern science and technology is married with the ancient traditional knowledge. It is located in Kawa Jangsa in the capital city of Bhutan, Thimphu.
Traditional Medicinewas introduced as a part of the National Health Care System in 1967, when production of traditional medicines was started on a very low scale. In 1982, the production of traditional medicines was mechanized with the procurement of some basic grinding equipment with WHO support. By 1997, the cottage production unit was upgraded to a manufacturing unit as the Pharmaceutical and Research Unit (PRU) with modern equipment for production, research and quality control.
Thegso-ba rig-paprovides a comprehensive way of understanding the Universe, man, and his sicknesses and it is gaining popularity due to its holistic, rounded and profound approach in the treatment of human beings. The TM system with its unique philosophy and approach has a holistic approach in the treatment of human suffering and diseases. It not only considers in treating the disease and its causes but also considers the interdependency of man and nature and has spiritual components included in the treatment.