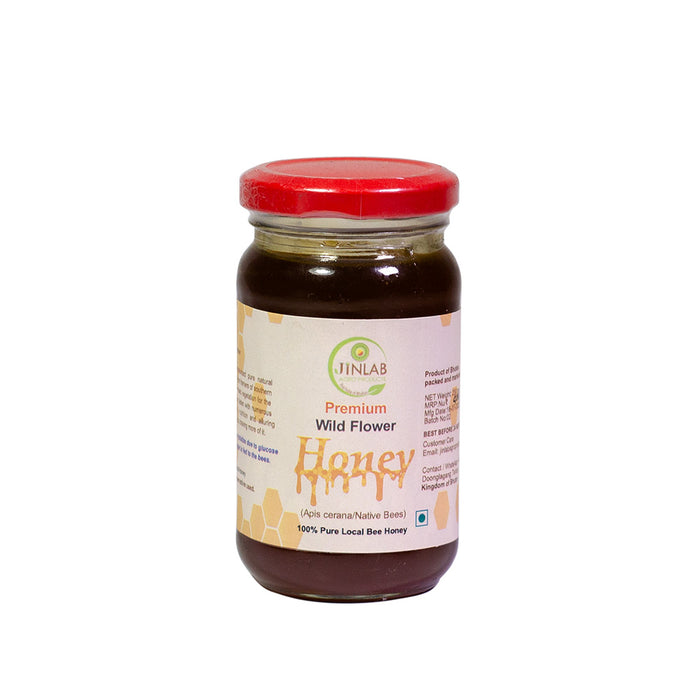 Premium Multi Flora Honey, 250g, Jinlab Agro Products, Bhutanese Agro, Honey from Bhutan, Bhutanese Honey, Natural, Organic, Fresh, Health, Flowers
Original price
Nu 400.00
-
Original price
Nu 400.00
 Premium Multi Flora Honey 250gm, Jinlab Agro Products
The  Unprocessed, Unpasteurized Pure  Natural Premium Multi Flora honey is made by the wild native bees (Apis Cerana) from the  pristine, pollution free rural area having  rich mixed vegation in the Southern Bhutan. The bees collect nectar from mixed vegetables, cash crops (oranges, kiwi, avocado, cardamom, plums, pears etc), wild herbs, medicinal plants and wild flowers of the deep forest. The honey is laden with numerous medicinal properties, nutrition and alluring taste that will leave you craving for more of it.

The wild bees stay in the homes where mostly traditional log hives, wall hives and few improved hives are kept. The bees are kept by the farmers  for extra income and for pollination to improve the yield of crops. This maintains the biological diversity of wild flora and fauna leading to the sustainability of the ecosystem of Southern Bhutan.

This honey is high in antioxidant, flavonoids, pro biotic enzymes, pollen, nutrients including vitamin B and C.

It also has bactericidal effect and is commonly used to treat anemia and allergies. Consumption of multi flora honey can support a healthy heart, stomach, digestive system and provide skin nourishment. It is said to be good for anti-inflammatory, cholesterol, blood pressure and diabetes.

Note: All raw honey will crystalize due to glucose and fructose. No sugar is feed to the bees.
Product Details:
Height: 13 inches


Length: 5 inches


Diameter: 5 inches


Weight: 250gm
Ingredients:
100% Natural honey

No additives or preservatives are used