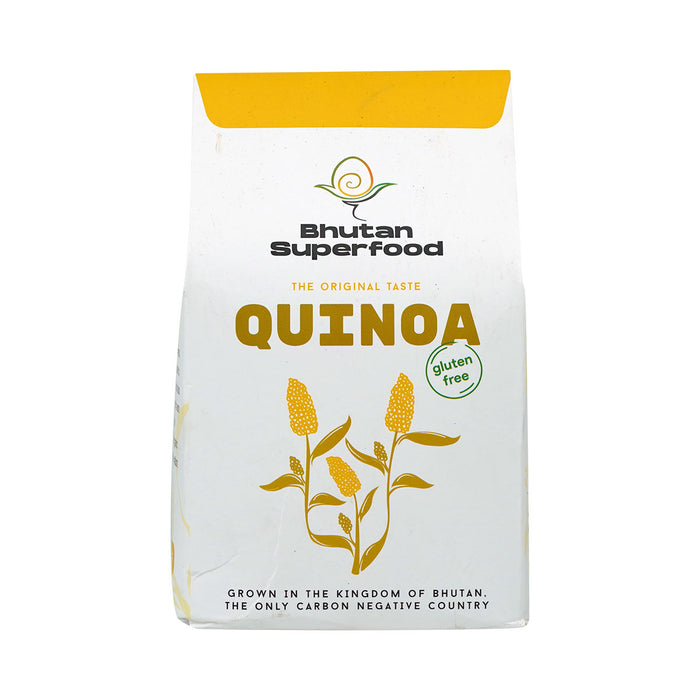 Quinoa, 1kg, Bhutan Superfood and Herbs
Sold out
Original price
Nu 450.00
-
Original price
Nu 450.00
Quinoa is a versatile and nutritious grain that is perfect for adding to any meal. Our Quinoa is sourced from trusted farmers who use sustainable farming methods to ensure the best quality and flavor.
Quinoa is a gluten-free and protein-rich grain that is perfect for health-conscious individuals. It is rich in fiber, vitamins, and minerals, making it a great addition to any diet. Our Quinoa is carefully cleaned and packaged to preserve its freshness and nutritional value.
Our Quinoa is perfect for adding to salads, soups, and stir-fries. It can also be used as a substitute for rice or pasta and is great for making pilafs, risotto, and even desserts. The nutty flavor and chewy texture of our Quinoa make it a versatile and delicious ingredient that can be used in many recipes.
About the producer 
Bhutan Superfood and Herbs sells organic products grown by the local farmers to its customers. Our mission is to cater to the growing need for organic food and also provide a platform for local farmers to earn a livelihood. We also hope to raise awareness of the importance of organic farming to the overall health of the nation.