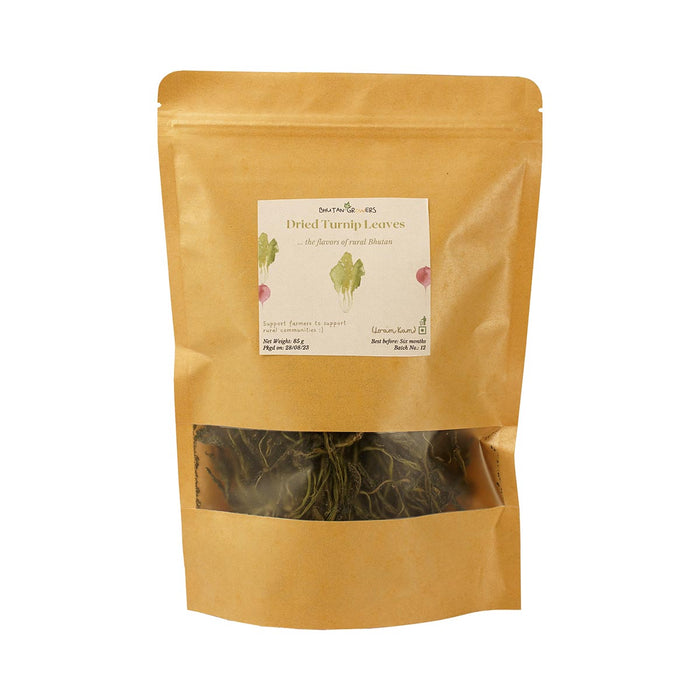 Sun Dried Vegetables from Bhutan Growers
Original price
Nu 210.00
-
Original price
Nu 280.00
Elevate your culinary journey with Bhutan Growers' Sun-Dried Vegetables, a harmonious blend of nature's finest flavors and Bhutan's purest essence. Our trio of sun-dried vegetables – eggplant, turnip leaves, and fiddlehead – are a testament to the art of preserving taste and quality. Sourced from the pristine valleys of Bhutan, these sun-dried delights encapsulate the essence of Himalayan goodness.
Savor the Flavor of Bhutan:
Sun-Dried Eggplant: These slices of sun-kissed eggplant bring a smoky, rich dimension to your dishes. With a delightful chewy texture and a burst of umami, they are perfect for stir-fries, salads, or as a savory snack.

Turnip Leaves: Packed with nutrients and a slightly peppery note, our sun-dried turnip leaves offer a versatile option for adding depth to your recipes. Use them as a flavorful addition to soups, stews, or pasta dishes.

Fiddlehead Ferns: The unique, coiled shape of sun-dried fiddleheads adds an exotic touch to your culinary creations. Known for their earthy, nutty flavor, they complement both salads and hot dishes with flair.
A Bounty of Benefits:
Bhutan Growers' Sun-Dried Vegetables are more than just flavorful; they're a treasure trove of nutrients. Rich in vitamins, minerals, and antioxidants, they elevate the health quotient of your meals while adding layers of taste.