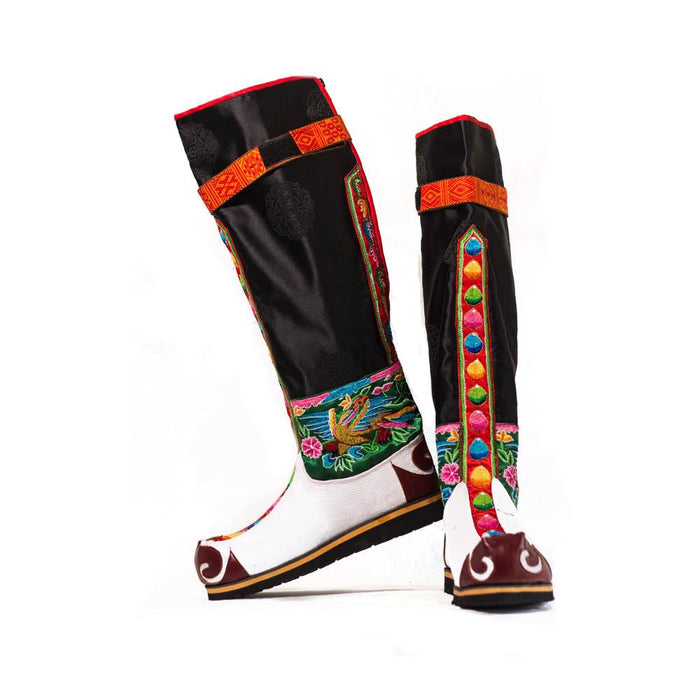 Traditional Bhutan boots/ shoe, Tsholam, Bhutanese Traditional Boots
Sold out
Original price
Nu 2,800.00
-
Original price
Nu 7,200.00
Nu 2,800.00
-
Nu 7,200.00
Current price
Nu 7,200.00
The Himalayan kingdom of Bhutan has a tradition of making special boots that mark the position and function of the wearer. The boots, locally called tshoglham, were originally made of silk cloth, but by the twentieth century more often in combination with leather. Some of the boots are left undecorated, but others are ornamented with appliqué and embroidery.
For centuries, the colour of the ground material and the specific designs of decoration indicated the social status of the wearer. The lower shaft of the boot, if dyed yellow, would indicate that the boots were worn by the King or Chief Abbot (thereby following the Chinese tradition); orange would indicate that the wearer was a minister, and red would show that the user was another, lower ranking official. Green was reserved for commoners.
By the end of the twentieth century, only royals, ministers and royal government officials were still wearing the embroidered boots and not surprisingly, the craft of boot making was threatened with total extinction. In an attempt to revive the art, the Bhutanese government stimulated a number of students to learn the craft of boot making from the only remaining recognised boot maker in Bhutan, Lopen Tenzin Wangdi (also known as Shabgye Tshoglam Wangdi or Ap Wangdi), who had learnt the craft in nearby Tibet and still made boots for the royal family and senior civil servants.
By 2005 there were five masters and 16 apprentices working at or for the Traditional Boot House at the Bhutanese capital of Thimphu. At the same time the Royal Civil Service Commission established a code of etiquette that required civil servants to wear tshoglhams during all official events, in order to create a demand for embroidered boots.
The present King of Bhutan, Jigme Khesar Namgyel Wangchuck (b. 1980), wore this type of embroidered boots during his coronation in 2008, although (ironically) the boots were designed by the Italian fashion house of Salvatore Ferragamo.