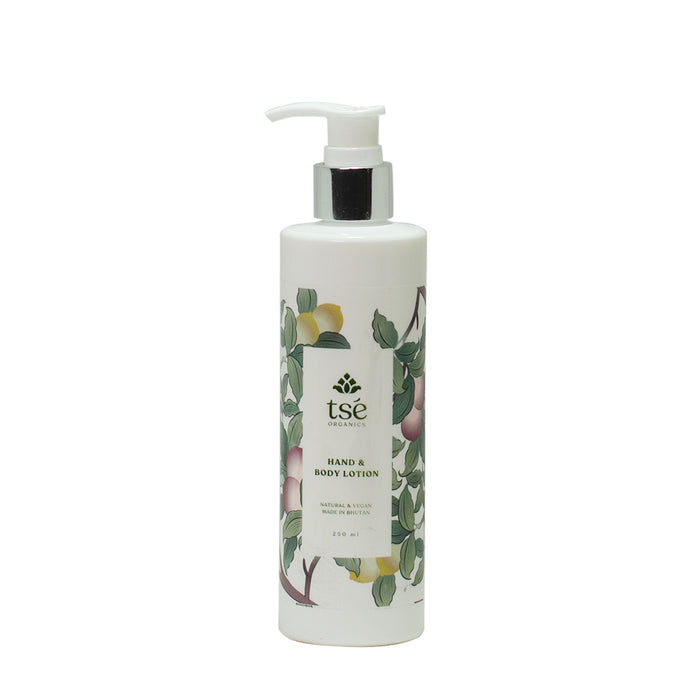 Tse Hand and Body Lotion, 250ml, Tse Organics, Hand and Body lotion, bhutanese lotion, hand lotion, body lotion, bhutanese body lotion, natural, hand and lotion from Himalaya, beauty, cosmetic,
Original price
Nu 700.00
-
Original price
Nu 700.00
Tse Hand & Body Lotion

Tsé Hand & Body Lotion is a nourishing, vegan lotion, made with natural oils, plant
extracts, pure essential oils and vitamin E. The lotion is a -light moisturizer, easily
absorbed and suitable for all skin types.
Ingredients:
Water/aqua,
vegetable
glycerin, Tocopherol,
Xanthan Gum, Oles
europaea L (olive) oil,
Helianthus annus
(sunflower) seed oil,
Cetyl Steary| Alohal
Polysorbate 60.
Rosmarinus officinals t
(rosemary essential oil),
Phenonyethand
Simmondsia
Chinensis
(Jojoba) OI
Lavandula
Angustifolia,
citric
acid
Potassium Sorbate (food grade).
Product Details: 
Height: 8 Inches
Diameter:  2 Inches
Direction:
Apply lotion after washing hand and body to keep shin hydrated and polt GLUTEN FREE | PARABEN FREE I SULCON FREE | PETROCHEMICAL SYNTHETIC & FRAGRANCE FREE.
We also have Artemista Natural Hand & Body Balm, Cinnamon lip Balm stick, Cypress Aromatic Hand & Body Balm, Geranium & Rose Natural Hand & Body Balm, Hydrating face mist, Juniper Berry Body Butter, Lavender Body Butter, Cinnamon Natural Lip Balm, Lavender Natural Hand & Body Balm, Menzang Mind Soother Ointment, Peppermint Balms, Peppermint Natural Lip Balm Stick, Rosemary & Tea Tree Natural Healing Balm, Tse Organics Bath Milk.