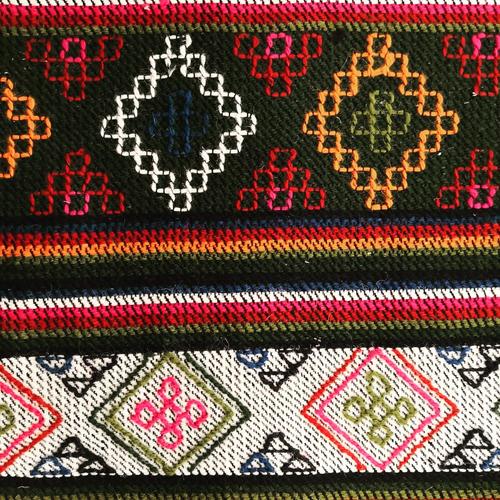 Yathra | The art of weaving in Bhutan
The art of weaving or 'Thagzo' in local terms is one of the oldest and widely used skills that have been practiced for ages in Bhutan. The use of textiles represents prestige, artistic skills, discipline, determination, familial sentiments, tangible forms of asset, and expressions of devotion towards the dharma in Bhutan.
The 'Yathra' textile
Bhutanese textiles are the product of knowledge and skills developed and nurtured over centuries of experiences and family traditions in particular 'Yathra's'. Yathras are valued and renowned for their richness of colour, sophistication and variation of patterns, including the sheep wool preparation, dyeing and weaving techniques. 
The art of Yathra weaving
 
image source: apic Bhutan
Top weave Yathras, horizontal frame looms called thrue tha's are used to weave Yathras. It was first introduced in Bhutan in the early twentieth century and it is believed to have inherited from a Royal Family weaver who was trained in Tibet who introduced this form of looms. Yathra weaving has now become an integral identity of the people of Bumthang that every household is likely to posses at least on loom in their homes.
Women in Chumey, especially those living in Chungphel, Zhurey, Kertsho, Bhim, Terzoe and Yeerangbi depend on weaving yathra. Women here begin training to weave yathra by the age of eight.
Settlements in these villages are mostly clustered. Women come to weave together in a shed. The usually weave form groups and weave facing each other. While they weave, they converse, at times stopping momentarily to concentrate on a trending topics. Sometimes they sing together or listen to radio programmes.
Significance of Yathra
The thick hand woven textiles are a unique speciality and skill of weavers in Chummey, Bumthang. It has evolved as a way to keep people warm. Yathra is also used as bed covers, blankets, rain cloaks, cushion covers, sofa set covers, and as jackets for both men and women.It is an inseparable part of the people of Bumthang and most villages depend on Yathra's for their daily income. 
Yathra today in Bhutan
Yathra weavers enjoy a booming demand for this unique fabric today. Weavers have formed cooperatives and established supply chains mechanisms to deliver their textiles to secondary markets. Weavers also share designs, and color combinations to bring about new trends and designs. They supply the textiles to designers and sewers mainly in Thimphu, who use yathra to stitch jackets and coats. Some weavers sell their products along the bypass roads and in craft market outlets mainly to tourist who visit Bumthang.