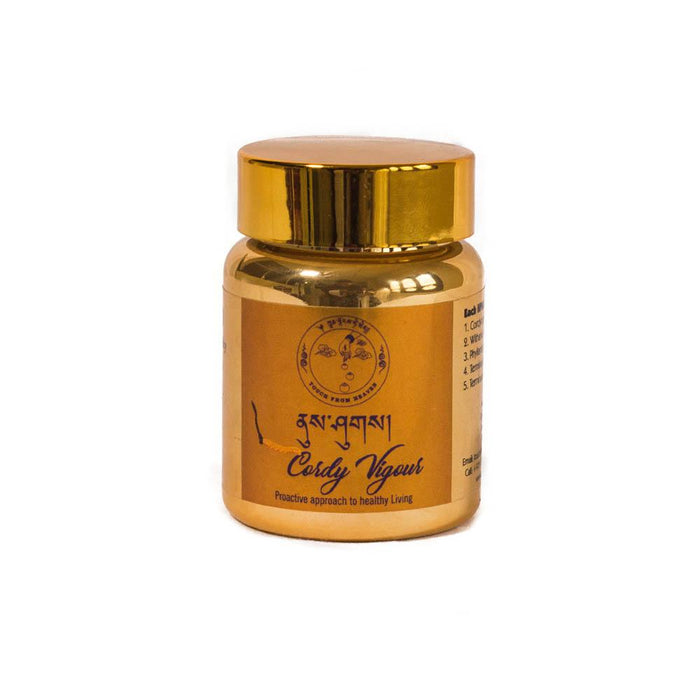 Cordy Vigour, Touch From Heaven, 250ml, Cordyceps capsule supplement
Sold out
Original price
Nu 4,020.00
-
Original price
Nu 4,020.00
Nu 4,020.00
-
Nu 4,020.00
Current price
Nu 4,020.00
This 50 mg HPMC capsule is believed to enhance longevity, vitality and general wellbeing by boosting immunity, providing cardio-tonic effects and anti-oxidant properties.
Health Benefits
Longevity and Vitality
Immune booster
Cardio-tonic
Ingredients: 
Cordyceps sinensis
Withania somnifera
Phyllanthus emblica
Terminalia chebula
Terminalia bellerica
Preparation: 
Product Description
Dimensions (LxWxH): 250 ml container
Weight: 50gms
Included: 90 capsules
About the producer
Touch From Heaven is established with objectives, in its little ways, to create jobs, service balance of trade, contribute to technical and technological sovereignty and self-reliance, while providing customers an alternative choice and a proactive approach to healthy and smarter living. Historically Bhutan is known as the land of medicinal plants. Today Bhutan is still one of the ten biodiversity hotspots in the world for the rich biodiversity it holds and pristine environment and practices of rich traditional knowledge it managed to conserve consciously. With intentions to realize these unique advantages and opportunities to niche itself and provides customers a proactive approach to healthy and smarter living, the Dhuetsi line of products have been produced. "Dhue" mean time, "tsi" mean glue or fix, thus Dhuetsi means Time-amalgamate. Thus Dhuetsi products are believed to postpone or slowing down aging processes and provide option for proactive approach towards healthy and smarter living.