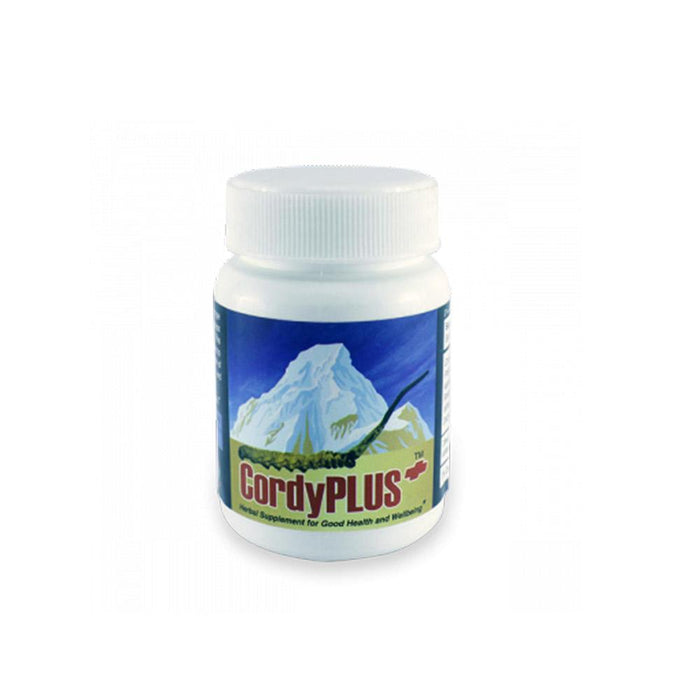 Cordyplus, Menjong Sorig, 20g, Pure cordycep capsules\supplement from Bhutan
Sold out
Original price
Nu 0.00
-
Original price
Nu 0.00
Nu 3,850.00
-
Nu 3,850.00
Current price
Nu 3,850.00
Herbal supplement for good health and well-being
Contains unique combinations of six exotic herbs (Cordyceps sinensis, Polygonatum verticillatum, Asparagus racemosus, Rhodendron anthopogon, Withanina somnifera and Dactylorhiza hatagiera)
Product Description
Dimensions: 30ml plastic airtight container
Weight: 20 gms
Included: 30 capsules
How to take
You can plan your capsules as per your schedule, we do recommend 1 to 3 capsules preferably before meals in the morning so that it can boost and protect your the entire day.
Health Benefits of Cordyceps Sinensis Cordy plus:
restores your body's strength & overall health

Improves liver & kidney functions

boosts hormones

improves skin and hair radiance

for general health and wellbeing
Caution: Not advisable for those who are under blood thinning medication and surgery.
About the Producer
Menjong Sorig Pharmaceuticals, otherwise known as the Pharmaceutical and Research Unit under the Institute of Traditional Medicine Services in the Ministry of Health, is the premier manufacturer of traditional herbal-based medicines supplied to all the Hospitals in Bhutan. It is a place where modern science and technology is married with ancient traditional knowledge. It is located in Kawa Jangsa in the capital city of Bhutan, Thimphu.
Traditional Medicine was introduced as a part of the National Health Care System in 1967, when the production of traditional medicines was started on a very low scale. In 1982, the production of traditional medicines was mechanized with the procurement of some basic grinding equipment with WHO support. By 1997, the cottage production unit was upgraded to a manufacturing unit as the Pharmaceutical and Research Unit (PRU) with modern equipment for production, research and quality control.
Thegso-ba rig-paprovides a comprehensive way of understanding the Universe, man, and his sicknesses and it is gaining popularity due to its holistic, rounded and profound approach in the treatment of human beings. The TM system with its unique philosophy and approach has a holistic approach in the treatment of human suffering and diseases. It not only considers in treating the disease and its causes but also considers the interdependency of man and nature and has a spiritual component included in the treatment.