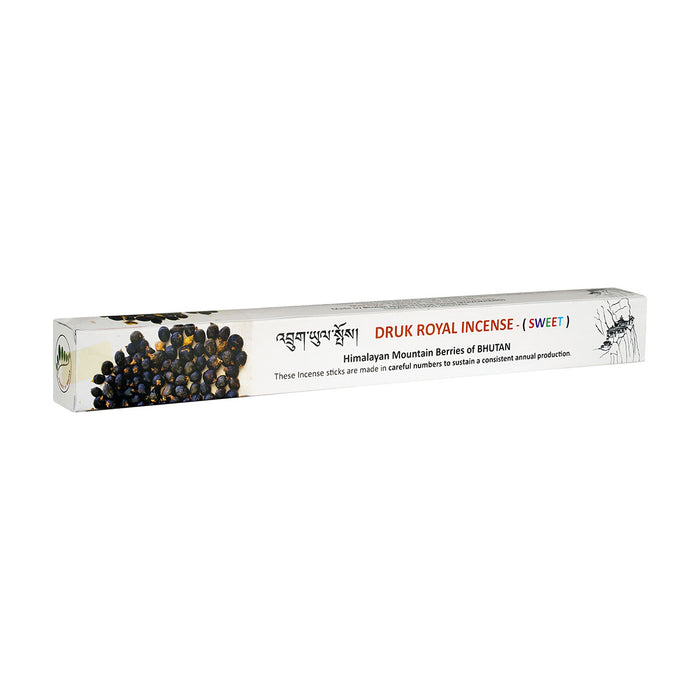 Druk Royal Incense -(SWEET), Himalayan Mountain Berries of Bhutan, Bhutan Jewel Incense
Original price
Nu 190.00
-
Original price
Nu 230.00
The exquisite handcrafted incense sticks from Bhutan Jewel Incense House, made with premium quality natural ingredients that are unique to Bhutan. These incense sticks are carefully crafted in small numbers to maintain consistent quality and production, ensuring that every stick is of the highest quality.
Each roll contains 20 to 23 sticks of 8.25 inches in length and burns for up to 1.5 hours, providing you with a long-lasting fragrance experience. The ingredients used in these incense sticks include premium juniper berry, inula racemosa, high altitude aromatic roots, and several other natural ingredients found in Bhutan.
The number of incense produced is determined depending on the annual fruiting of the Himalayan Juniper berries. The little black berries are harvested in a sustainable way, which forms the base for this incense. Then the other natural ingredients are added on in perfect proportions to further enhance the superior scent of this wonder berries.
This Incense Formula is in the lines of incense making knowledge passed down from generations and more, as all the ingredients use are organically sourced from the Bhutan mountains, making the incense sweet scented naturally.
Bhutan Jewel Incense House, also known as Poizokhang, is renowned for its exceptional craftsmanship and adherence to traditional Bhutanese techniques of incense making. With these incense sticks, you can experience the authentic scents of Bhutan right in your home or office, creating a serene and calming atmosphere.