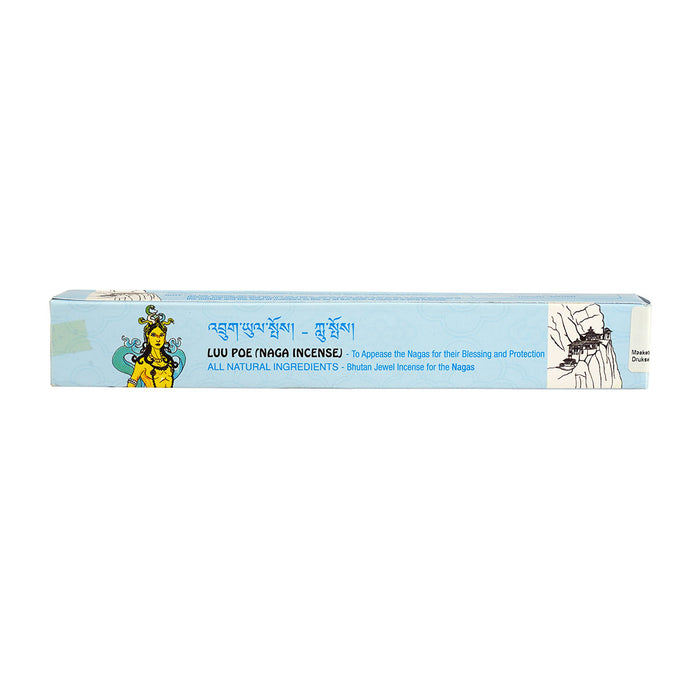 Luu Poe (Naga Incense), All Natural Ingredients, Bhutan Jewel Incense
Original price
Nu 0.00
-
Original price
Nu 0.00
To appease the Nagas for their Blessing and Protection.
This Luu Poe (Naga Incense or locally called NAGA Dre Cheh) is made from special ingredients that is especially used when appeasing the eight great Nagas who are said to be the earliest guardians and protectors of all the land and other natural grounds including rocks, plants and water.
This Naga Incense is used to appeal such deities so that they do not harm you if you unknowingly enter into heir territory. One can avoid sickness and ill happenings which are usually associated with disturbing the Nagas
This incense is made by a retired Buddhist master who hails from Trashigang in eastern Bhutan. He started practicing incense making as a child when he entered monkhood. He learned this art form his two Gurus, both lamas who follow Vajrayana Buddhish.
When to use this incense : This incense can be lit and offered every day to ward away evil eye and can be used when ever one starts a new business or break ground for new construction works, or shift into a new place.
Technical Description:
Contains a minimum of 25 sticks
Length : 8.5 inches
Incense Sourced and Packaged By: Bhutan Jewel Incense, Thimphu:Bhutan