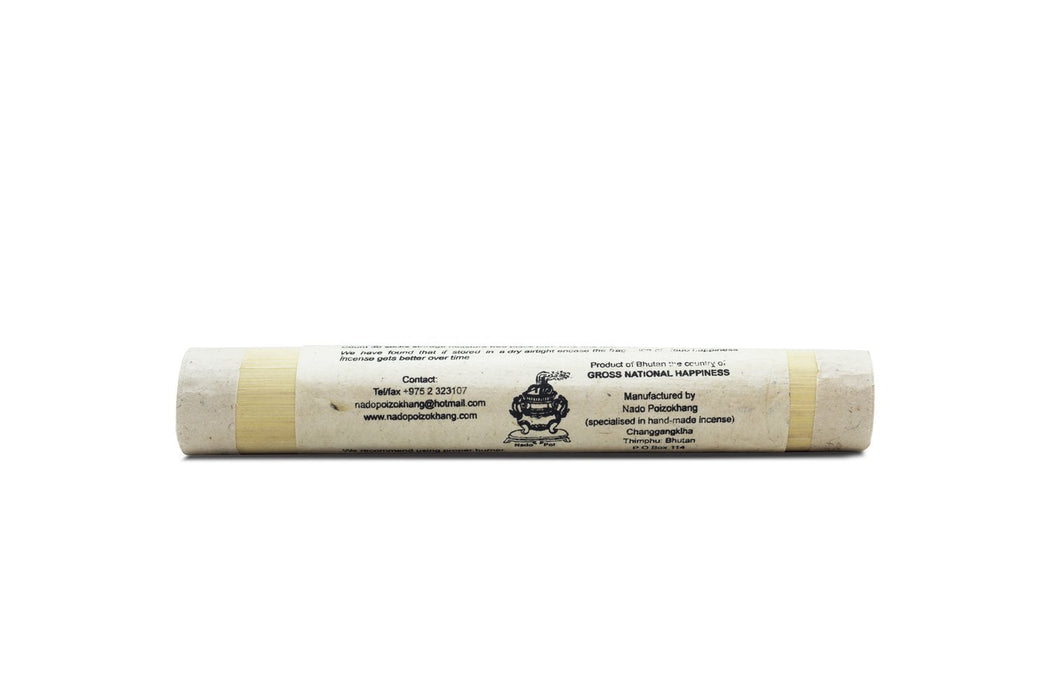 Happiness Incense Stick, 120g, Nado Poizokhang
Original price
Nu 0.00
-
Original price
Nu 0.00
Nado Poizokhang Happiness incense stick
This Incense stick is hand made from Precious medicinal herbs found in the Himalayas such as sausages kappa, nardostachys jatamansi, safflower, saffron and red and white sandalwood with no chemical additives, no artificial colors, and no artificial scents added. it is prepared based on the formula prescribes 100 years ago by Buddhist Yohis and Masters to give ancient sacred fragrances. this incense is generally used for prayers while it is also for enhancing concentration., boosting meditation and fostering wellbeing. This incense is non-toxic, non addictive and non pollutant.
Techincal Description
Net Weight: 120gm
Colour: Mud red
Stick length: 23cm
Burning time: 75min
Also see Sky DancerS Premuim Incense, Quality Incense Powder, Sangzay Natshog, Rewasang, Naga Incense, Zimpoi, Bhutanese Stick Incense (Yellow Tara), Chrendren Mensang High Quality Incense Powder, Bhutanese Stick Incense (Brown Tara), Incense Burner, Herbal Incense Powder, Bhutanese Incense stick Mud Yellow, Drib Sang (Cleansing Powder), Drib Sang(Juniper & Rododendron), Zhingkham Kunchab Chhoetrin.
About the Producer:
The Nado Poi Zokhang incense range is highly regarded throughout the Himalayas and is amongst the finest of all Bhutanese incense. Nado Poi Zokhang are also the oldest established incense maker in Bhutan and are dedicated to keeping this ancient tradition and practice alive. All of the Nado incense we offer is made from the purest and most freshly gathered ingredients and only sustainable harvesting practices are used. It comes direct from the hands of the incense maker and this ensures it is 100% genuine and not one of the many fake Bhutanese brands that are now so common in Nepal. It has long since been prized as an aid to healing, meditation and ritual because it adheres to traditional recipes prescribed by enlightened masters of the past.
Bhutanese incense has a very distinct medicinal aroma that is uniquely Himalayan. Each freshly made batch that arrives from Bhutan is at its very best for your ritual offerings and burning experience. If you are looking to try Bhutanese incense for the first time, Nado Poi Zokhang is always an excellent place to start.