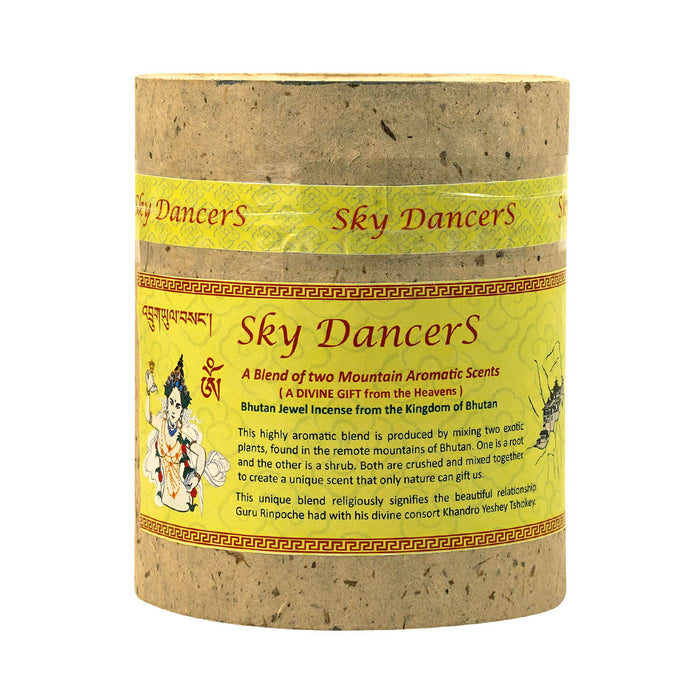 Sky DancerS Premuim Incense, 250g, Bhutan Jewel Incense
Original price
Nu 575.00
-
Original price
Nu 575.00
A blend of two aromatic mountain scents.
This highly aromatic blend is produced by mixing two exotic plants, found in the remote mountains of Bhutan. One is a root and the other is a shrub. Both are crushed and mixed together to create a unique scent that only nature can gift us.
This unique blend religiously signifies the beautiful relationship Guru Rinpoche had with his divine consort Khandro Yeshey Tshokey.
Mix well before use.
This Sang can be used daily or on special occasions as an offering to the Gods and Local deities
It can be used as a natural fragrance in Homes and Offices

Technical Details
Net weight: 250gms
Incense powder is packed in environment-friendly, bio-degradable local handmade paper made from the Daphne Plant.
Also see Drezang Purifying Incense, Medicine Buddha, Cone Incense, Sangzay Natshog, Rewasang, Naga Incense, Zimpoi, Bhutanese Stick Incense (Yellow Tara), Chrendren Mensang High Quality Incense Powder, Jomolhari Incense Powder, Bhutanese Stick Incense (Brown Tara), Incense Burner, Kuengacholing Incense (Yellow Tara), Drib-Sang by Bhutan Incense Powder, Drizang Kuenchap Incense, Kuengacholing Incense (Green Tara), Rewo Sangchoe, Kriya Tantra Incense, Drezang Calming Incense, Riwo Sangchoe Incense Powder, Drezang Protection Incense Sticks, Hand rolled Incense Sticks.