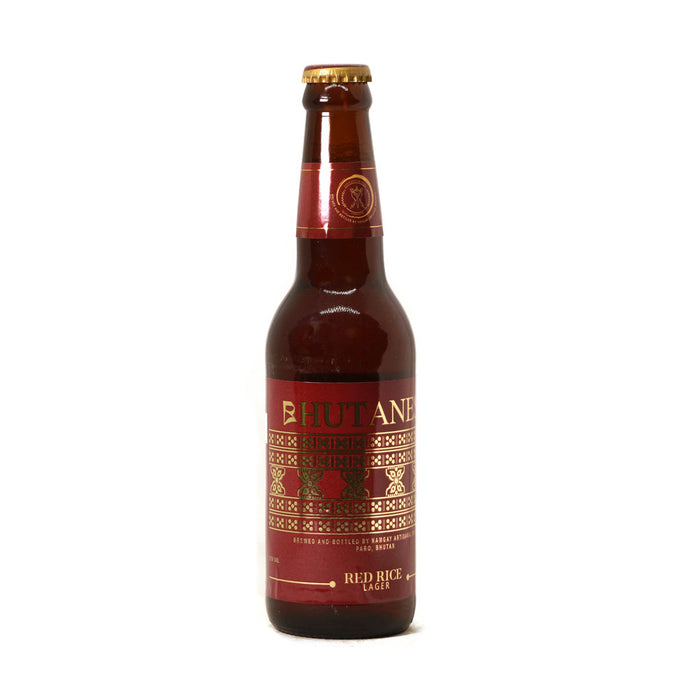 Namgay Artisanal Craft beers, 330ml, Namgay Artisanal Brewery
Original price
Nu 100.00
-
Original price
Nu 2,400.00
A traditional lager is brewed using Bhutanese Red Rice, Magnum and Saaz hops which blend well with imported two-row and crystal malts. The result is a medium-bodied lager with a toasty, caramel-like character. The idea was to add a little something in this lager as a hint to where this craft brewery is located.
The beer presents a clean hops character complemented by smooth malt, caramel and coffee flavors. It is an easy, refreshing brew that culminates in a bite.
Product Description
Dimensions: 330 ml bottles
Alcohol content: 4.5%
For bulk and wholesale import: email us at info@druksell.com 
We also offer VSOP Cognac, Bhutan Grain Whiskey, K5 Whiskey, Misty Peak, ROSE Zumzim Wine, Special Courier Whiskey, TER single malt whiskey, Yahla Cream Liquer, Zumzim Peach wine, Bhutanese Beer, Honey Wine, Kiwi Wine, Namgay Artisanal Craft Beers, Raven Carbernet Sauvignon.
About the brewery
Craft beer is gaining popularity in Bhutan and Namgay Artisanal Brewery is one of the few breweries that have sprung up in recent times in Bhutan located at Paro valley. 
If you are visiting Bhutan, you can visit the Brewery located in Paro valley. The brewery is perched on a hill opposite Paro International Airport. You can enjoy the rice beer with local food at the brewery and experience a tour inside of the brewery.