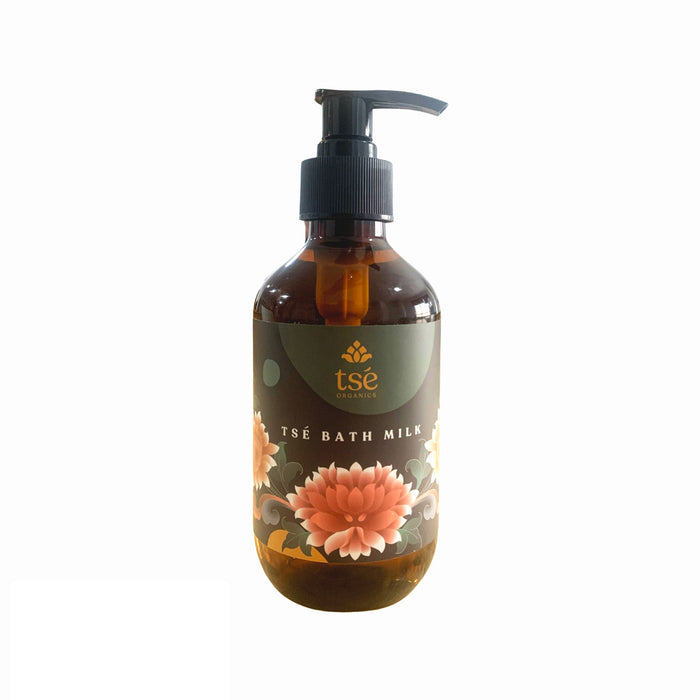 Tse Organics Bath Milk, 300ml, amber bottle with pump
Original price
Nu 699.00
-
Original price
Nu 699.00
Tse Organics Bath milk mix with all Local Ingredients in a plastic amber bottle with pump And Made In Bhutan

How To Use

Fill in the bathtub with warm water and add in a milk bath, mix well

Shake well before use
Technical Details

Glycerin
SFO (helianthus anus)
Rose Oil (Rosa demascena)
We also have Artemista Natural Hand & Body Balm, Cinnamon lip Balm stick, Cypress Aromatic Hand & Body Balm, Geranium & Rose Natural Hand & Body Balm, Hydrating face mist, Juniper Berry Body Butter, Lavender Body Butter, Cinnamon Natural Lip Balm, Lavender Natural Hand & Body Balm, Menzang Mind Soother Ointment, Peppermint Balms, Peppermint Natural Lip Balm Stick, Rosemary & Tea Tree Natural Healing Balm, Tse Hand and Body Lotion.
Producer
Tsé Organics is founded on the belief that creating a balance with the elements of nature is essential for wellness; the ancient and sacred Bhutanese Buddhist tradition of healing. Tsé Organics brings to you our unique luxury oil blends and skin products that are safe, non-toxic, from the best ingredients. Our signature blends are ethically sourced and hand-blended using traditional Bhutanese wisdom with contemporary and modern technology to create a superior exclusive experience. Tsé Organics presents five signature blends inspired by the five Tantric Buddhist elements of Earth, Water, Fire, Air and Space. These five elements and their energies are believed in tantric Buddhism to live within us, connected to our chakras and related to our emotions, mind, body and character.
Earth (sa) blend echoes the healing experience of grounding to the earth. The ingredients in the blends are: Water (chu) blend is inspired by the purification and rejuvenation generated by water. Fire (me) blend mirrors the invigorating energy of warm. With warming heating blends. Air (llung) blend is inspired by the refreshing movement of breath and air. Space (cha) is inspired by the strengthening nature of the space element.

"Tsé Organics guiding principles are sustainability and ethical sourcing. Tsé Organics is committed to giving back to our communities by setting aside a percentage of profits for supporting the sustainable livelihood of women farmers in Bhutan."