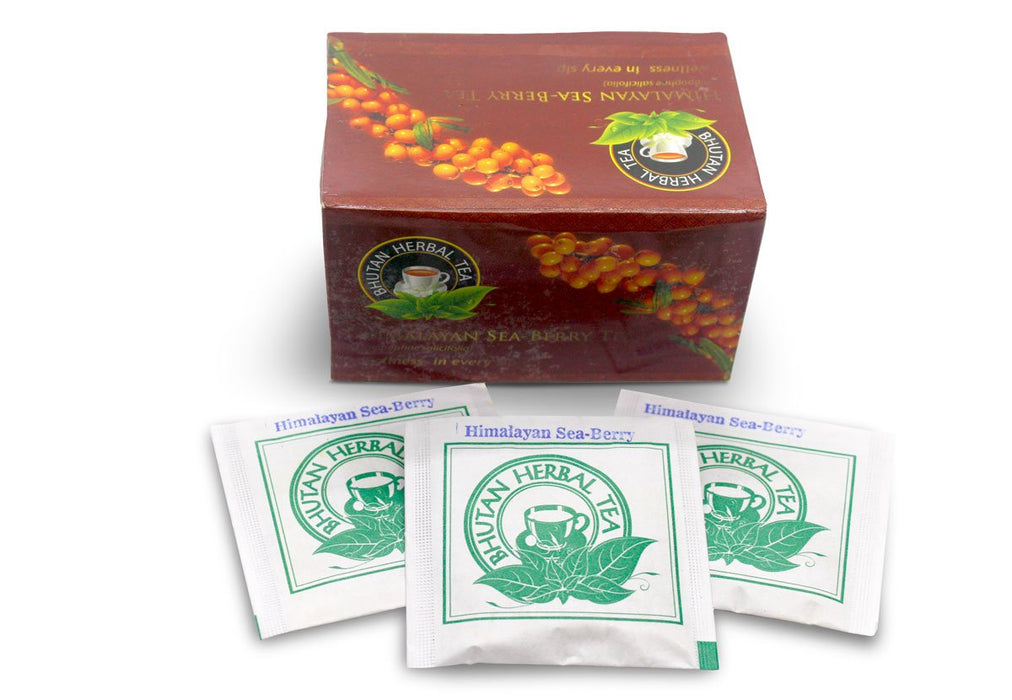 Bhutan Sea berry or Seabuckthorn Tea, 150g, Bhutan Herbal Tea
Original price
Nu 300.00
-
Original price
Nu 300.00
The Best for Your Health! Completely Natural! Seaberry or seabuckthorn tea from Bhutan.
Ingredients: Organic sea buckthorn berry skins and pits
Preparation: 
Pour boiling water over a tea bag placed in a cup and allow to brew for 5 to 10 minutes to get the best flavour and infusion.
For Maximum benefits, avoid adding sugar or milk.
Don't throw away your used tea bag, refrigerate it for use as facial cleanser or as soothing eye packs.
Health Benefits
Recommended for adults and children for general strengthening of the body!
Strengthens immune system;
Reduces inflammation;
Promotes flexibility and permeability of blood vessels;
Maintains normal blood pressure;
Helps lowering cholesterol and improves heart health;
Helps to treat chronic pulmonary, liver, gastric-gut diseases.
Product Description
Dimensions (LxWxH): 24.5cmx16.5cmx1cm
Weight: 150 gms
Included: 25 Tea bags in one box.
We also offer Guava Tea Infused with Tulsi, Avocado Tea by Gurjo Herbal Tea, Hibiscus Tea, Moringa Tea from Bhutan Herbal Tea, Ginger Moringa Infusion, Tulsi Moringa Infusion, Hibiscus Moringa Infusion, Loose Tea Leaves, Bhutan Ginger Cordycep Tea, Ginger Tumeric Tea, Bhutan Matsutake Tea, Dhuetsi Herbal Tea Tin.