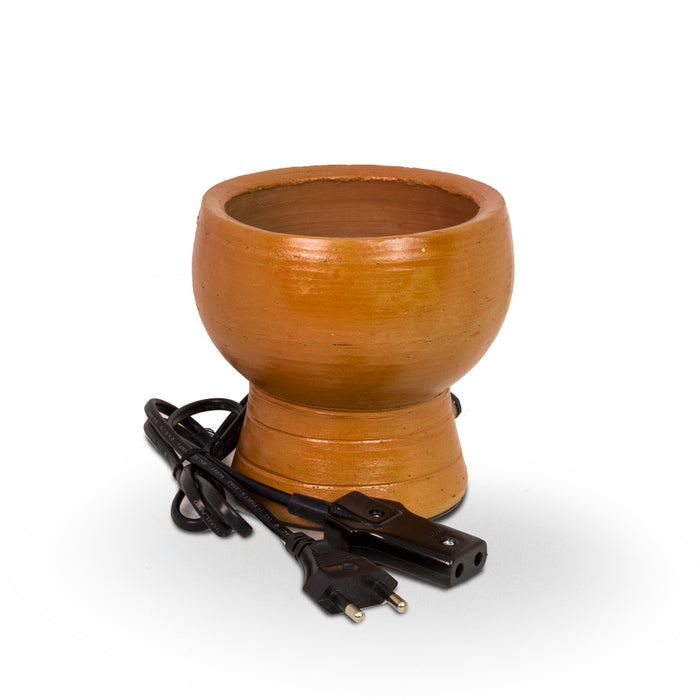 Incense Burner, Electric Sangphor, བསང་ཕོར།, 240V
Original price
Nu 2,200.00
-
Original price
Nu 2,200.00
Nu 2,200.00
-
Nu 2,200.00
Current price
Nu 2,200.00
Handmade in Bhutan using recycled materials. Incense burners or Sangphor is a common spiritual activity performed in Bhutan. The aromatic smoke when provides therapy, meditation, and ceremonial feeling. It is also used as a deodorant or insect repellent. 
In the Buddhist tradition, incense burners are used as an act of offering to Buddha and other deities. It is also an important ritual act that is believed to clear the air of evil spirits.
The Sangphor comes with heating burner pot and a electric cable with 2 pin type plug head.
Dimension:
Height:16cm x width: 12cm x length: 12cm
weight:500g
Also see Drezang Purifying Incense, Medicine Buddha, Cone Incense, Sky DancerS Premuim Incense, Quality Incense Powder, Sangzay Natshog, Rewasang, Bhutanese Stick Incense (Yellow Tara), Jomolhari Incense Powder, Bhutanese Stick Incense (Brown Tara), Cone Incense (Green Tara), Phagchok Incense, Bhutanese Yellow Incense Box, Drizang Kuenchap Incense, Drib Sang(Juniper & Rododendron), Zhingkham Kunchab Chhoetrin.
About the producer
The electric Sangphor is locally made using raw materials extracted from earth. The burner is then fitted with a heating coil inside which is supported by a conventional 240V electric 2-pin plug.