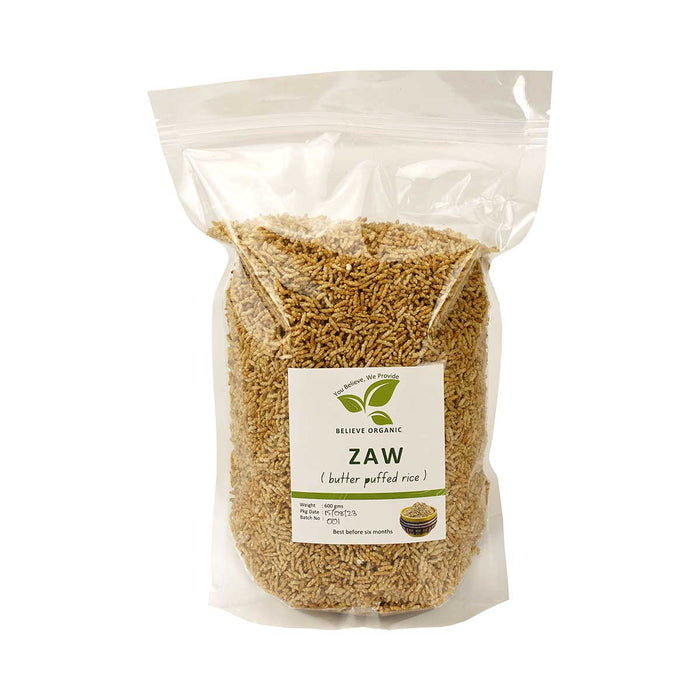 Zaw (butter puffed rice), Gayza Seep, Believe Organic
Original price
Nu 340.00
-
Original price
Nu 420.00
Believe Organic's Zaw: Butter Puffed Rice – A Crunchy Delight for Your Taste Buds.
Want something from the Bhutanese culture to snack on? Look no further than Believe Organic's Zaw Butter Puffed Rice. With a weight of 600 grams, this delightful snack is the perfect choice for both your on-the-go cravings and your mindful snacking moments.
Why Choose Believe Organic's Zaw Butter Puffed Rice?
Organic Goodness: Our commitment to organic farming practices ensures that every bite of Zaw is free from harmful pesticides and synthetic additives. You can savor the wholesome goodness of nature with every mouthful.

Unmatched Flavor: Zaw is all about indulgence. The rich, creamy buttery flavor combined with the satisfying crunch of puffed rice will have your taste buds dancing in delight. It's the perfect harmony of taste and texture!

Portability: With a convenient 60-gram pack, Zaw is your ideal companion for those busy days when you need a quick and tasty snack. Slip it into your bag, and you'll always have a delicious treat at your fingertips.

Versatile: Zaw is not just a snack; it's a versatile ingredient. Sprinkle it on salads, mix it into yogurt, or enjoy it straight from the pack. Let your creativity shine with this wholesome snack.