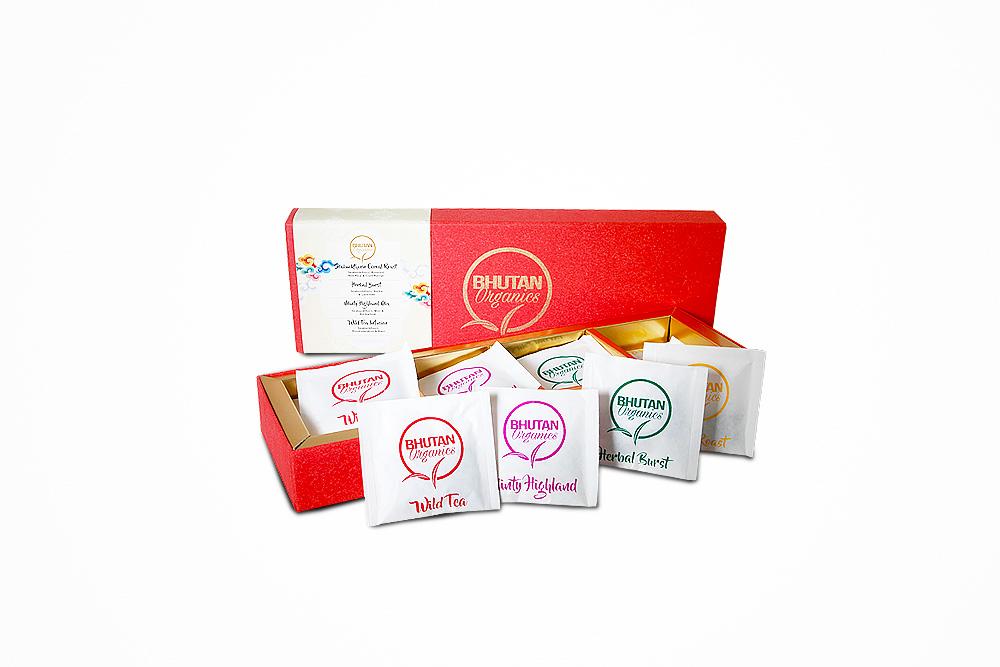 Gift Set, 40 Tea Sachets, 60g, Bhutan Organics
Original price
Nu 0.00
-
Original price
Nu 0.00
Enjoy a gift box containing 4 different tea blends derived from herbs and grains grown in the pristine Himalayas. Seabuckthorn leaves are flavored with nettle and lavender; high altitude cereals; mint and buckwheat; rhododendron and basil offering unique tastes and amazing healing properties.
A wonderful gift of premium teas delivering the goodness of Bhutan.
Benefits of Seabuckthorn leaves

Every seabuckthorn (Hippophae salicifolia) berry and leaves are meticulously handpicked from the pristine wilds of Bumthang. Drinking tea from the leaves of the seabuckthorn which is also known as seaberry leaves can be particularly helpful in reducing excess weight, pain caused by rheumatoid arthritis, or even improve one's overall health by its consumption as it contains numerous antioxidants and antibacterial phytochemicals. Seabuckthorn, known to have more than 190 bio-active compounds, is a natural source of vitamins, nutrients, antioxidants, frolic acid and unsaturated fatty acids of Omega 3-6-7-9. Seabuckthorn is known to support health of liver, heart, skin, hair and more.
Why Bhutan organics Herbal tea?
Like water, it's caffeine and calorie free

It includes relaxation, pain reduction and the improvement of body system such as digestive & immune

It stimulate brain function and increases stamina and metabolism

Nutritional powerhouse of antioxidants

Helps in blood circulation and improving overall well being

Helps to relax & rejuvenate, reduces stress and anxiety etc.

Safer & more natural alternative to prescription to medicine

It can help prevent chronic disease

Unlike taking medication, Herbal teas doesn't have any side effects
Health Benefits of drinking this tea
Natural detox
Immunity booster
Anti-aging properties
Revitalize
Instruction: Pour boiling water over a tea bag placed in a cup and allow to brew for 5 to 10 minutes to get the best flavor and infusion. For Maximum benefits, avoid adding sugar or milk. You can add two fresh mint leaves or a small spoon of honey to make your seabuckthorn cereal roasted tea more enjoyable. Don't throw away your used tea bag, refrigerate it for use as facial cleanser or as soothing eye packs.
Ingredients
Seabuckthorn
Rhododendron
Basil
Tea Properties
Vitamin A, B, C, K, E
Flavonoids
Carotenoids
Omega 3, 6, 7, 9
Iron
Calcium
Technical description
Dimensions (LxWxH): 30cmx 9cmx4cm
Weight: 60 gms
Included: Paper tea gift set of 4 flavors
We also offer Rosehip Moringa Infusion, Due-tsi-ma by Bhutan Herbal Tea, Lekden Healthy Tea, My Gakidh Village Tea, Loose Tea Leaves, Assorted Tea Gift Pack from Bhutan Herbal Tea, Loose Tea, Bhutan Herbal Tea, Chamomile Tea, Lemon Verbena, Pineapple weed tea, Hibiscus Tea, Mint Tea, Bhutan Cordyceps Tea, Dhuetsi Herbal Tea, Bio Lemongrass Green Tea, Mint Tea, Bhutan Herbal Tea,turmeric tea, Bhutan Cordyceps Tea by Naturally Bhutan, Safflower & Cinammon Tsheringma Tea, Seabuckthorn Cereal Roast, Bhutan Cordyceps Tea, Himalayan Gooseberry Tsheringma Tea, Mistletoe Tea from Bhutan, Bhutan Cordyceps Cardamom Tea, Cinnamon & Turmeric Tsheringma Tea, Bhutan Mountain Tea.
About the Producer
Bhutan Organics is a social enterprise by friends who have come together to give a taste of happiness through a line of natural foods from ingredients- both grown in the wild and by our farmers working in close collaboration with the local communities.