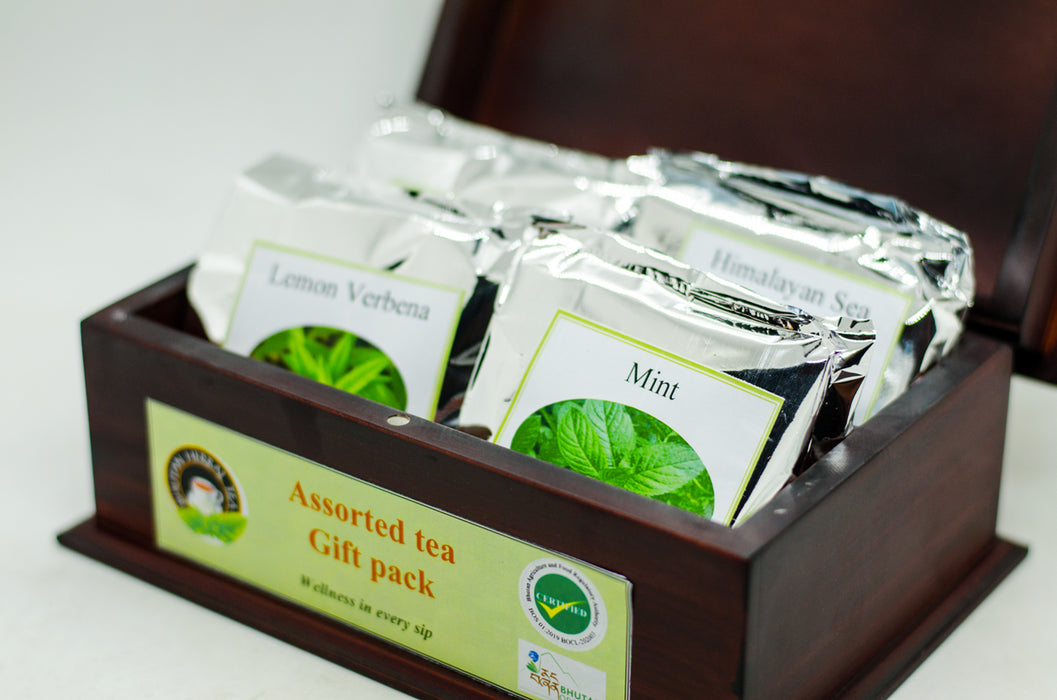 Assorted Tea Gift Pack, 650g, Bhutan Herbal Tea
Original price
Nu 1,200.00
-
Original price
Nu 1,200.00
Nu 1,200.00
-
Nu 1,200.00
Current price
Nu 1,200.00
Ingredients: 100% pure plant extraction. Additives and preservatives free, pesticide residues and heavy metal are removed.
100% organic certified product from Bhutan
Preparation: 
Pour boiling water over a tea bag placed in a cup and allow to brew for 5 to 10 minutes to get the best flavour and infusion.
For Maximum benefits, avoid adding sugar or milk.
You can add two fresh mint leaves or a small spoon of honey to make your Mint tea more enjoyable.
Don't throw away your used tea bag, refrigerate it for use as facial cleanser or as soothing eye packs.
Product Description
Dimensions: wooden box
Weight: 650gms
Included: Mint Tea, Lemon Verbena, Chammoimle, Himalayan Sea berry
We also offer Guava Tea Infused with Tulsi, Avocado Tea by Gurjo Herbal Tea, Hibiscus Tea, Tulsi Moringa Infusion, Bhutan Green Tea, Cordyceps Green Tea, Bhutan Agarwood Tea, Loose Tea Leaves, Bhutan Ginger Cordycep Tea, Ginger Tumeric Tea, Bhutan Matsutake Tea, Dhuetsi Herbal Tea Tin, Bhutan Sea berry or Seabuckthorn Tea, Bio Lemongrass Green Tea, Mint Tea, Natural, healthy, turmeric tea, moringa tea, Druk Yung Wellness Tea, Bhutan Natural, Wild Tea Infusion, Cinnamon & Turmeric Tsheringma Tea, Bhutan Mountain Tea.
About the Producer
Bhutan Herbal Tea is a BAFRA certified (GMP/GHP) tea producer and manufacturer at most competitive prices,based in Shaba, Paro.
Founded in 2017, Bhutan Herbal Tea set out to become one of the renowned and most competitive tea company in Bhutan. Our business activities include a packaging unit for bagging tea for other tea producers, along with packaging services of all kinds for various food items.
At Bhutan Herbal Tea we look after over 100 customer needs. We primarily supply to retailers and whole sellers with premium quality loose tea, bagged tea and also honey.
Bhutan Herbal Tea facilities include storage facility which is included in a 1500sqft factory space. Along with a 500sqft space for final and finished products.
Recently Bhutan Herbal Tea also started exporting to different parts of Asia and Europe. Our loose tea is distributed to high end hotels and restaurants in Bhutan.
Bhutan Herbal Tea has its own delivery van certified by local municipality. All production and manufacturing staff are trained and certified with the BAFRA food handler's license.
The skills and experience of the management with over 10 years of experience in the food service industry, together with a motivated team, ensures that the customers get prompt and top quality service every time.