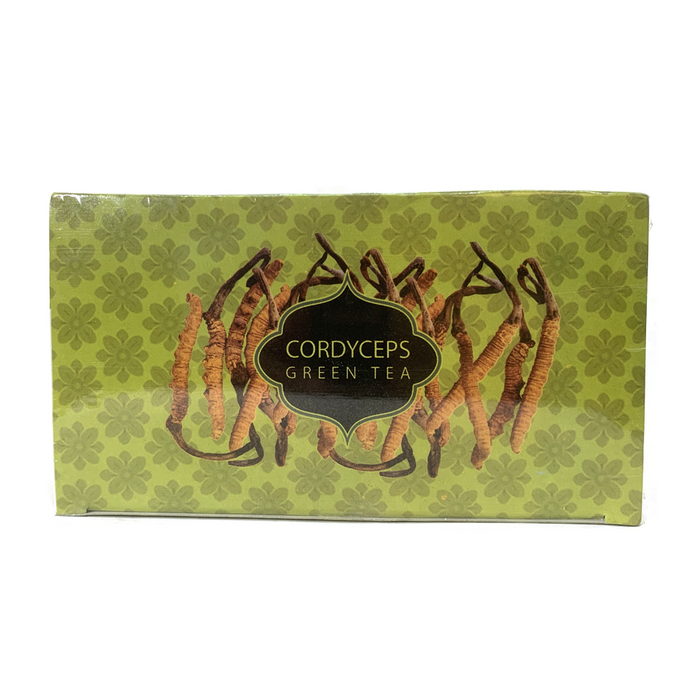 Cordyceps Green Tea, 100g, OGOP
Sold out
Original price
Nu 499.00
-
Original price
Nu 499.00
Cordyceps Green tea is a product of Samcholing village under Trongsa District. It is rare and exotic as only a few hundred kilograms are harvested annually. Cordyceps sinses is the main source of livelihood for highlanders. The product is organically grown, picked, and processed at the pristine environment of high Himalayas. Green tea production is aimed at helping the economically disadvantaged farmers of Samcholing community so as to enhance their livelihood.
Instruction:
Put one bag of tea into the mug

Add hot water
leave it covered for few minutes
Ingredients: 
Unfermented leaves of Camelia Sinensis 
Cordyceps sinensis
Product Description

Dimensions (LxWXH): 24x10x10
Weight: 100g
We also offer Guava Tea Infused with Tulsi, Avocado Tea by Gurjo Herbal Tea, Hibiscus Tea, Moringa Tea from Bhutan Herbal Tea, Ginger Moringa Infusion, Tulsi Moringa Infusion, Hibiscus Moringa Infusion, Rosehip Moringa Infusion, Due-tsi-ma by Bhutan Herbal Tea, Loose Tea Leaves, Bhutan Ginger Cordycep Tea, Ginger Tumeric Tea, Bhutan Matsutake Tea, Dhuetsi Herbal Tea Tin, Bhutan Sea berry or Seabuckthorn Tea, Bhutan Herbal Tea Burst, Seabuckthorn Cereal Roast, Bhutan Cordyceps Tea, Himalayan Gooseberry Tsheringma Tea, Bhutan Minty Highland mix, Mistletoe Tea from Bhutan, Bhutan Cordyceps Cardamom Tea, Cinnamon & Turmeric Tsheringma Tea, Bhutan Mountain Tea.
About the producer
"OGOP aims to support economic development & increase community products by mobilizing all avaliable resources in order to promote grassroots community by adding more value to products made with local wisdom, tradition, culture & the community's resources which make them unique products"- The Queen's Project (Bhutan)