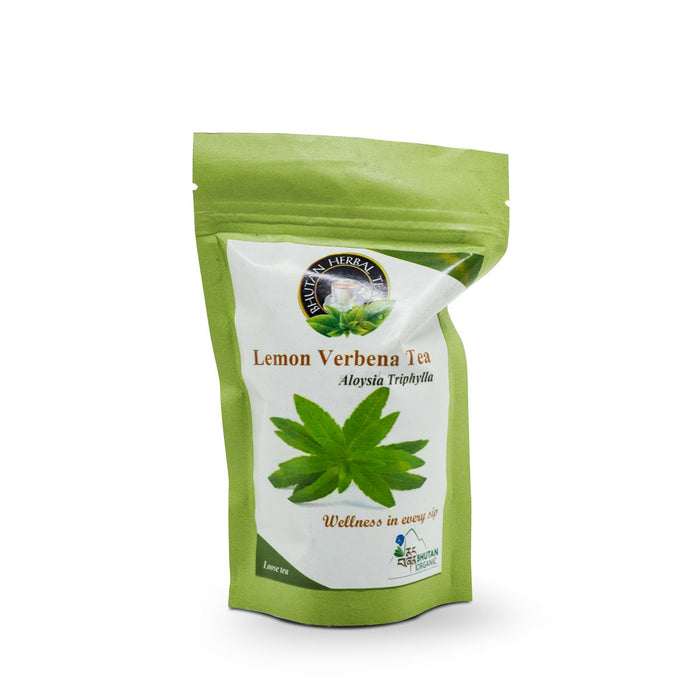 Loose Tea, 10g, Bhutan Herbal Tea, Chamomile Tea, Lemon Verbena, Pineapple weed tea, Hibiscus Tea, Mint Tea
Original price
Nu 200.00
-
Original price
Nu 300.00
Wellness in every sip, Organic and 100% pure Chamomile loose tea extracts from Bhutan.
Ingredients:
100% pure plant extraction of Chamomile, Lemon Verbena, Hibiscus, Pineapple weed tea and Mint.
Additives and preservatives free, pesticide residues and heavy metal are removed.
100% organic certified product from Bhutan
Preparation: 
Pour boiling water over a tea bag placed in a cup and allow to brew for 5 to 10 minutes to get the best flavor and infusion.
For Maximum benefits, avoid adding sugar or milk.
You can add two fresh mint leaves or a small spoon of honey to make your Mint tea more enjoyable.
Don't throw away your used tea bag, refrigerate it for use as facial cleanser or as soothing eye packs.
Product Description
Dimensions: Sealed pouches
Weight: 10 gms
Included: Mint Tea, Lemon Verbena, Chammoimle, Himalayan Sea berry
Best before 24 months 
We also offer Guava Tea Infused with Tulsi, Avocado Tea by Gurjo Herbal Tea, Hibiscus Tea, Moringa Tea from Bhutan Herbal Tea, Ginger Moringa Infusion, Bhutan Sea berry or Seabuckthorn Tea, Assorted Tea Gift Pack from Bhutan Herbal Tea, Loose Tea, Bhutan Herbal Tea, Chamomile Tea, Lemon Verbena, Druk Yung Wellness Tea, Seabuckthorn Cereal Roast, Bhutan Cordyceps Tea, Himalayan Gooseberry Tsheringma Tea, Bhutan Minty Highland mix, Mistletoe Tea from Bhutan, Bhutan Cordyceps Cardamom Tea, Cinnamon & Turmeric Tsheringma Tea, Bhutan Mountain Tea.
About the producer
Bhutan Herbal Tea Farm will specialize in premium herbal teas that are grown organically. They will grow and produce mostly three kinds of tea: Peppermint tea, Chamomile tea and Lemon Verbena tea, each one with its unique flavor, aroma, characteristics, and health benefits. Special attention will be given to the packaging.