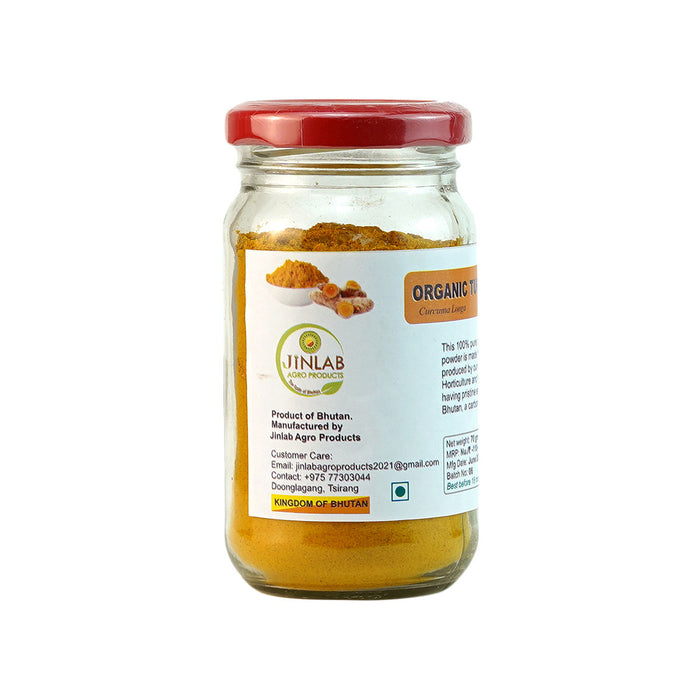 100% Organic Turmeric Powder (Curcuma Longa), 70g, Bhutan Organic
Original price
Nu 110.00
-
Original price
Nu 110.00
Experience the rich and authentic flavor of Bhutan with our 100% Organic Turmeric Powder. Made from the finest turmeric rhizome produced by our affiliated company Ashish Horticulture and Nursery, located in the southern part of Bhutan, this powder is the perfect addition to your spice collection. Our turmeric powder is certified organic and completely pure, so you can trust that you are getting the best quality product possible.
Not only does our turmeric powder add a delicious flavor to your dishes, it also boasts many health benefits. Turmeric is known for its anti-inflammatory and antioxidant properties, making it a popular ingredient in traditional medicine. Incorporate it into your daily diet to improve your overall health and well-being.
With 70g of powder in each package, you will have plenty of turmeric to experiment with in your recipes. Add it to your curries, rice dishes, and marinades to add a unique Bhutanese flavor to your meals. Don't settle for anything less than the best quality turmeric powder - choose Bhutan Organic and taste the difference.
Net weight: 70 gms
We also have the following spices:

Organic Cardamom from Bhutan, Organic Turmeric Capsules, Bhutanese Fiery Spice Bouquet, Bio Pure Ginger Powder, Black Turmeric, Celery Herbs, Chili Powder, Large Cardamom Powder, Natural Dried Bay Leaves, Sun Dried Chilli Flakes, Sun Dried Garlic, Sun Dried Red Chillies, Sun Dried Seedless Chilli Powder, Sun Dried Sichuan Pepper, Sun-dried white chilies, Sersang Tumeric Powder, Tumeric Powder.