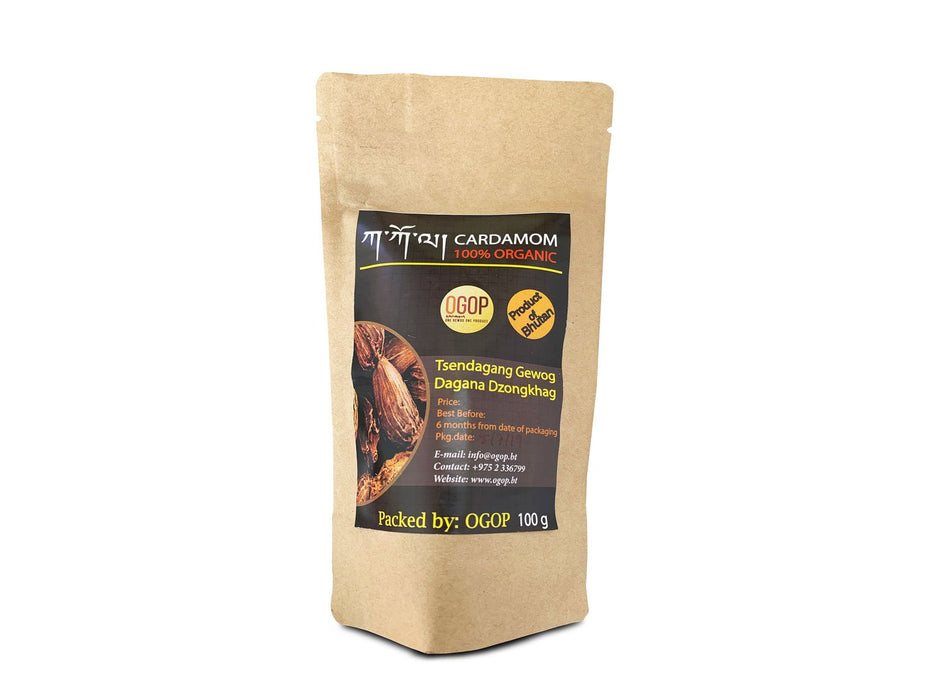 100 % Organic Cardamom from Bhutan, OGOP, Bhutanese cardamom, healthy, natural, organic, cardamom from bhutan, Bhutanese cardamom, Himalayan cardamom.
Sold out
Original price
Nu 0.00
-
Original price
Nu 0.00
Bhutan's big cardamom has a fresh and aromatic aroma which is complex in nature. It can be described as slightly sweet, floral and spice having citric elements. Large black cardamom has a strong, unique taste with an intensely aromatic fragrance. Large Cardamom is best stored in pod form because once the seeds are exposed or grounded they quickly lose their flavour. Roughly 2.5 to 3 cm in length, the pod is dark brown to black in colour and have a tough, dried and wrinkly skin.

Black cardamom is dried over a smoke fire and therefore has a distinct smoky aroma. The seeds have sweetish, smoky flavour when bitten into. The pods can be used in their whole or split forms while cooking. Cardamom is often included in Indian sweet dishes and drinks like punches and milled wines. It is used in pickles, especially pickled herring and flavoured custard. A stimulant and carminative, it is used curing indigestion and flatulence.
Bhutan harvests one of the most organic forms of cardamoms in the world. This particular product is sourced from Tsendagang gewog, Dagana Dzongkhag in south Bhutan.


International Name of Cardamoms:
French: cardamome
German: Kardamom
Italian: cardamomo, cardamone
Spanish: cardamomo
Burmese: phalazee
Chinese: ts'ao-k'ou
Indian: elachi, e(e)lachie, ela(i)chi, illaichi
Indonesian: kapulaga
Sinhalese: enasal
Thai: grawahn, kravan
What are the health benefits of cardamom?
Digestive issues: Cardamom is great for curing and preventing digestive issues. Other than this, it is also good for boosting digestive health. The cooling effects of cardamom, despite being a spice, can help in relieving acidity. Along with this, cardamom can also help in treating gastrointestinal issues like indigestion, nausea, vomiting, stomach pain and spasms.
Bad breath: Cardamom has anti-bacterial properties which help in getting rid of bad breath as it helps in neutralizing dental bacteria.
Depression: Due to the aromatic power it holds, cardamom has the added benefit of helping those going through mental stress, depression or any other mental health issue. You can boil cardamom in water or add it to your tea for the best results.
Expectorant action: For Those suffering from asthma and bronchitis, cardamom is a wonder spice for you. This is because cardamom can help improve blood circulation in the lungs by blood thinning action.
Sexual dysfunction: Sexual dysfunctions like impotency and premature ejaculation can also be successfully treated with cardamom. Consuming cardamom with milk and honey can do wonders for your sex life.
Other benefits: Since cardamom is a multi-purpose spice, it is great for those suffering from bad metabolism, bad memory, helps to detoxify your body and is great for those period stomach cramps which seem impossible to bear.
How to take cardamoms?
Cardamom can be used in a variety of ways. It can be included in your daily chai and coffee, immersed in boiling water and consumed on an empty stomach, and even in your masala box. 
Product Description
Vacuum sealed package
Net weight 100 gms
We also have the following spices:

Organic Turmeric Capsules, Organic Turmeric Powder (Curcuma Longa), Bhutanese Fiery Spice Bouquet, Bio Pure Ginger Powder, Black Turmeric, Celery Herbs, Chili Powder, Large Cardamom Powder, Natural Dried Bay Leaves, Sun Dried Chilli Flakes, Sun Dried Garlic, Sun Dried Red Chillies, Sun Dried Seedless Chilli Powder, Sun Dried Sichuan Pepper, Sun-dried white chilies, Sersang Tumeric Powder, Tumeric Powder.
About the Artisan
"OGOP aims to support economic development & increase community products by mobilizing all available resources in order to promote grassroots community by adding more value to products made with local wisdom, tradition, culture & the community's resources which make them unique products"- The Queen's Project (Bhutan)