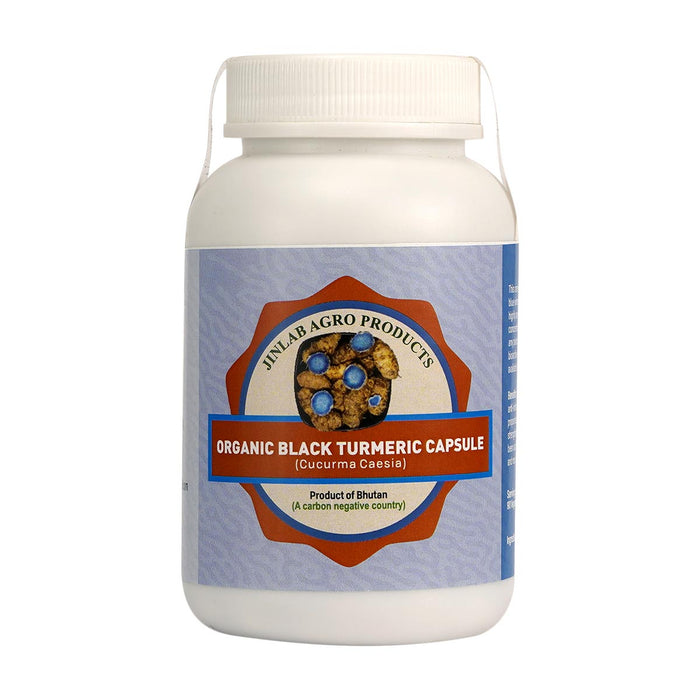 Organic Black Turmeric Capsules (Cucurma Caesia), Product of Bhutan, Jinlab Argo Products
Original price
Nu 2,050.00
-
Original price
Nu 2,050.00
Nu 2,050.00
-
Nu 2,050.00
Current price
Nu 2,050.00
Black Turmeric Capsules: (By Jinlab agro products) sold exclusively through CSI Market .

Black turmeric has has vibrant blue colour when fresh, has strong taste and highly aromatic.It has the highest concentration of curcuminoids of any plant species.Curcumin is a biologically active polyphenolic compound that has antioxidant and anti-inflammatory properties to reduce inflammation, strengthen the immune system and protect the cells against damage caused by free radicals. It also contains bioactive compounds you won't find in regular turmeric that is available in the market.
Black turmeric was traditionally made into paste to heal wounds, skin irritation, snake bites and insect bites.
Benefits:
This rare herb has powerful antioxidant, anti-inflammatory, antimicrobial property. Believed to help in stomach ulcer, arthritis, retard growth of cancer cells, respiratory illness, liver detox, digestive health, weight loss, improve symptoms of depression, prevent heart disease, insomnia, blood purification.

Product Description:
Item form: capsules (500 mg)
Brand: Jinlab
Diet type: Vegetarian
Material features: GMO free, Gluten free, no additives, no preservatives, sustainably grown in organic farm, curcumin up to 14.8% (ordinary yellow turmeric has 2-8%), GHP&GMP certified.
We also offer the following supplements:
Turmeric Capsules, Black Ginger Capsules, Dhuetsi Chuelen, Lakadong Turmeric Capsules, Bhutanese Shilajit, Mountain Pepper Oil, Native Turmeric Capsules, Natural Litsea Citrata Oil (Sil Timur), Shilajit in Resin Form, Turmeric Capsules, Yungwa.