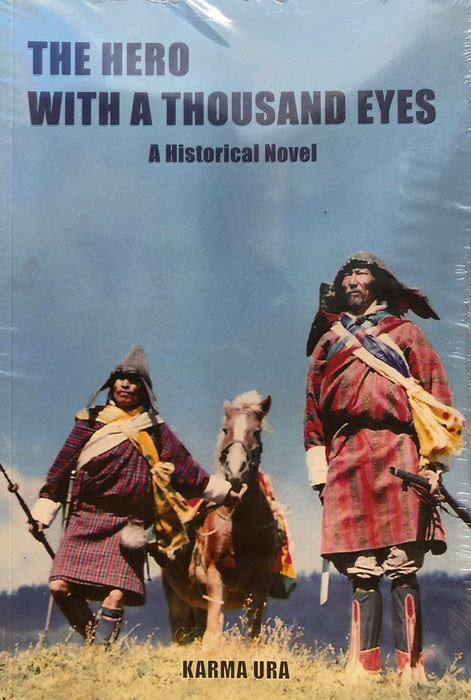 The Hero with a Thousand Eyes by Karma Ura
Sold out
Original price
Nu 780.00
-
Original price
Nu 780.00
Karma Ura's book The Hero with a Thousand Eyes gives a wonderful insight into the protocol and workings of the Bhutanese court in the days of the second king, Jigme Wangchuck.
We also offer the following books:

Folktales of Bhutan, Living the Bhutanese Way, Discover the Eleven Profit Centres of Life, Switch Off- Karma Tenzin(Yongba), Miracle One Day, In Love with Butterflies and Other Stories, Deyzang by Indra K. Vishwa, Depa Bondeypa's Relatives, The Miracle Calling, Phases, Mipham's Dialectics and the Debates on Emptiness, AKu Thongmi: A song for Bhutan Written by Jane Hancock and Janet Herman, My Green School, Dewdrops in the sun; A Treasury of Poems, Rigzang, Ei8ht Nyingtib Tshering's Amazing Journey, What is the true cause of being born handsome or beautiful, Kissing Dragon, The Rendezvous Omega, Escapades Awakenings, How Turnips Came to Haa, The Dharma King, Bumo Jarim,The Dharma King by Dr. Lauren Alderfer, Akhey Gyem: A Legend from Haa, A Little Thing Called Love, Bhutan the Roar of the Thunder Dragon, Deities, Archers and Planners in the Era of Decentralisation, Sharchop Gyalpo and Ashi Nangsa, GNH Certification, Gyalo by Lingo Jamtsho, Medical History of Bhutan, The Sky Heard The Whisper, Tales in Colors & Other Stories, Enchanted by Bhutan, Thakchung Gadpu, Songs of Lonely Raven, The beautiful Chaos, Thus I Heard, Foods of the Kingdom of Bhutan, The Hidden Rainbow.
About the author
Dasho Karma Ura (BA Hons, Oxford University, M. Phil Economics) Edinburgh worked for the Ministry of Planning for 12 years before becoming the Director of the Centre for Bhutan Studies (CBS) from its founding in 1999 until 2008 when he became its President. The CBS has been at the forefront in promoting and deepening national and global understanding of Bhutan's home-grown development philosophy of Gross National Happiness and conducting multidisciplinary research about Bhutan. He was a member of the Drafting Committee of Bhutan's first Constitution, enacted in July 2008. He was awarded the red scarf and the ancient title of distinction, Dasho, by His Majesty the Fourth King in December 2006, for his dedicated service to the country. In 2010, he was bestowed the honour of Druk Khorlo (Wheel of Dragon Kingdom) by His Majesty the King for his contributions to literature and fine arts. He is also a painter. He has written several books such as Faith and Festival of Nimalung; Deities and Archers; The Hero with a Thousand Eyes; Ballad of Pemi Tshewang Tashi; and Leadership of the Wise: Kings of Bhutan, and contributed articles to numerous books. He is member of several professional bodies. He is an Associate Editor, International Journal of Asian Business and Information Management (2009 onwards); Member, School of Well-being, Chulalongkorn University, and San Nagarprada Foundation, Thailand; Member, Reflection Group on Global Development Perspectives, Global Policy Forum, Europe, Bonn, (2010 onwards); Member, Chief Economist's Advisory Panel, South Asia Region, World Bank. In Bhutan, he is a member of Tarayana Foundation (A leading humanitarian-project focused NGO). He was visiting professor in several universities/institutes such as Nagoya University, Japan and Xian University of Architecture and Technology. He has given keynote speeches in many fora.