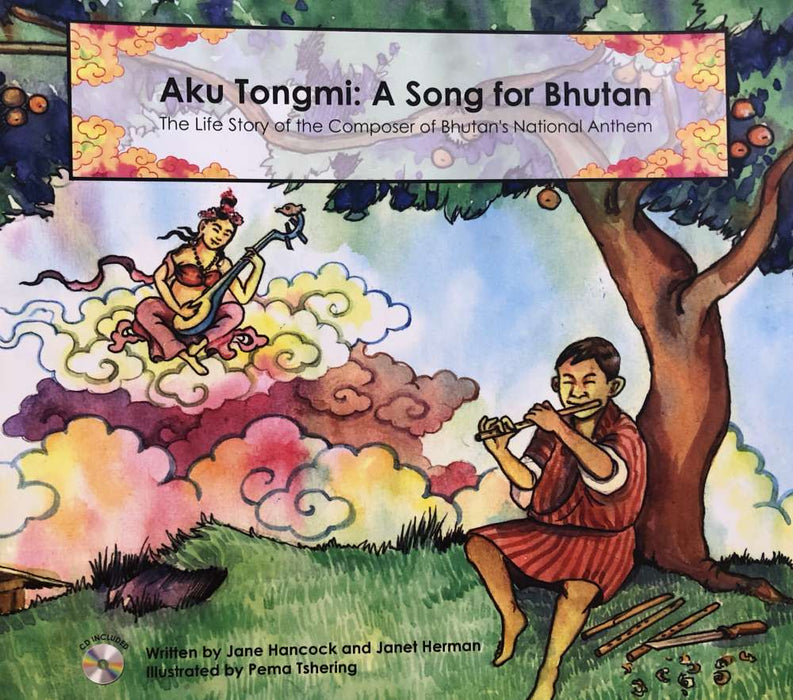 AKu Thongmi: A song for Bhutan Written by Jane Hancock and Janet Herman- Illustrated by Pema Tshering
Sold out
Original price
Nu 450.00
-
Original price
Nu 450.00
The children book narrates the famous composer called Aku Tongmu, who served as in Army from his remote rural village from a young age and was a close personal servant to the kings. He was the first conductor for the Royal Army Band, an educator of country's traditional music and dance, a generous constructor of Bhuddhist Shrines and represented by leading artist Pema Tshering, the book provides the life long history of mid-twentieth century bhutanses life style. 
Published : December 2nd, 2018
ISBN : 9780578401010
Category : All
Publisher: Music of Bhutan Research Center
No. Of Pages : 64 pages
Dimension 
Weight: 211gms
We also offer the following books:

Folktales of Bhutan, Living the Bhutanese Way, Discover the Eleven Profit Centres of Life, Switch Off- Karma Tenzin(Yongba), The Cuckoo and the Pigeon, Whispering WIngs, Our Life Waste not Regret not, The Hero with a Thousand Eyes, Leadership of the Wise Kings, Kyetse by Chador, Miracle One Day, In Love with Butterflies and Other Stories, Deyzang by Indra K. Vishwa, Depa Bondeypa's Relatives, What is the true cause of being born handsome or beautiful, Kissing Dragon, The Rendezvous Omega, Escapades Awakenings, How Turnips Came to Haa, The Dharma King, Bumo Jarim,The Dharma King by Dr. Lauren Alderfer, Akhey Gyem: A Legend from Haa, A Little Thing Called Love, Bhutan the Roar of the Thunder Dragon, Deities, Archers and Planners in the Era of Decentralisation, Medical History of Bhutan, The Sky Heard The Whisper, Tales in Colors & Other Stories, Enchanted by Bhutan, Thakchung Gadpu, Songs of Lonely Raven, The beautiful Chaos, Thus I Heard, Foods of the Kingdom of Bhutan, GARPA by Pema Tshering, Dorji by Alex Rothman, Folded into a paper boat a collection of Poetry from Bhutan, Mebartsho: The Falming Lake, Tales of the Yeti, Gyal-Khab, Reflections of State, Citizen, and Citizenship Education, The Hidden Rainbow.
About the Author
Jane Hancock, who helped to establish the Music of Bhutan Research Centre (MBRC), is a credentialed educator and photographer. She has been living part time in Bhutan since 2010, assisting with many aspects of MBRC and teaching music and theater arts at secondary and primary schools in Thimphu. Janet Herman, who holds a Ph.D. in Folklore and Ethnomusicology from UCLA, also helped to establish MBRC. She has served as research consultant and writer on a wide variety of MBRC projects, including Masters of Bhutanese Music, Vol. 1 (2013), the first book to profile traditional Bhutanese musicians.