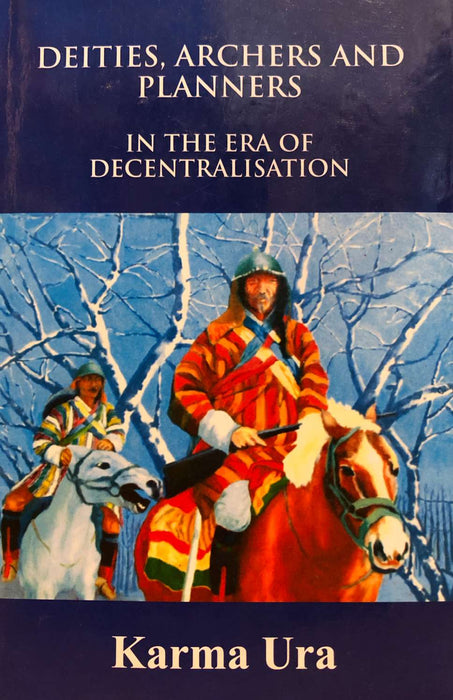 Deities, Archers and Planners in the Era of Decentralisation, Karma Ura
Sold out
Original price
Nu 699.00
-
Original price
Nu 699.00
Author: Karma Ura 
Publisher: Karma Ura 2004
Summary: Various collection of writings on Sociology-cultural life and decentralization in Bhutan.
We also offer the following books:

Discover the Eleven Profit Centres of Life, Switch Off- Karma Tenzin(Yongba), The Cuckoo and the Pigeon, Whispering WIngs, Our Life Waste not Regret not, The Hero with a Thousand Eyes, The Miracle Calling, Phases, Mipham's Dialectics and the Debates on Emptiness, AKu Thongmi: A song for Bhutan Written by Jane Hancock and Janet Herman, My Green School, Dewdrops in the sun; A Treasury of Poems, Rigzang, Ei8ht Nyingtib Tshering's Amazing Journey, What is the true cause of being born handsome or beautiful, Kissing Dragon, The Rendezvous Omega, Escapades Awakenings, Sharchop Gyalpo and Ashi Nangsa, GNH Certification, Gyalo by Lingo Jamtsho, Medical History of Bhutan, The Sky Heard The Whisper, Tales in Colors & Other Stories, Enchanted by Bhutan, Thakchung Gadpu, Songs of Lonely Raven, The beautiful Chaos, Thus I Heard, Foods of the Kingdom of Bhutan, GARPA by Pema Tshering, The Gift, TIGER AND MONK: A HIMALAYAN FICTION, Enchanted by Bhutan, Dorji by Alex Rothman, Folded into a paper boat a collection of Poetry from Bhutan, Mebartsho: The Falming Lake, Tales of the Yeti, Gyal-Khab, Reflections of State, Citizen, and Citizenship Education, The Hidden Rainbow.
About the Author:
Karma Ura is the President of the Centre for Bhutan Studies (CBS) and GNH research.[1] He is also an active scholar, a writer and a historian.